Porsche owner 'restores' value of classic 911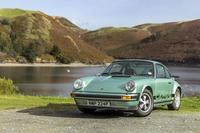 A very rare 1975 Porsche 911 Carrera 2.7 MFI Coupe, fully restored over the last 16 months, will be auctioned by Silverstone Auctions at the Classic Motor Show at the NEC, Birmingham, on 12th November.
The special Porsche was bought new by its first owner on 13th November 1975 from Swinford Motors of Stourbridge, as one of only 21 911 MFI Coupe examples produced. It was used for the first 33 years of its life and maintained by respected Porsche specialists before being taken off the road in 2008 with just 55,500 miles on the clock.
After seven years in storage, it was decided that the car needed to find a new home and Silverstone Auctions were approached in May 2015 to help find a new owner. Offered as an exciting restoration project, very rarely do cars of this nature and originality come onto the market, and it was therefore hard to resist for many, selling for £146,250, more than £50,000 over its lower estimate.
The new owner set about restoring the car and it was stripped by specialist Porsche restorers 'RS 911', with every effort was made to preserve as much of the original car as possible. Other than two new front wings and basic perishable items, the rest of the car was restored using existing components that were repaired or renovated.
The suspension, brakes, differential and electrics were all rebuilt and the original interior simply cleaned up, re-stitched and restored. The fully rebuilt engine and gearbox were reunited with the car having been fully balanced and tuned by renowned Porsche engine builders 'Tech 9 Motorsport' in Liverpool.
Today, fully rebuilt by its second and current owner, this 911 MFI presents in stunning order with Ice Green paintwork. Just before the car is offered at auction, with an estimate of £240,000 to £280,000, the owner is hoping to reunite the car with the original owner one last time and reveal the incredible changes to the car.
"The results of this restoration must be seen to be fully appreciated. 'RS 911' have done a fantastic job, the engine sounds superb, and this 911 can now be returned to the road in its former glory," comments Will Smith, sales manager at Silverstone Auctions.
"I expect the car's first owner to be absolutely awestruck to see his 911 returned to the condition it was in the day he bought it, and there will be no lack of interest from Porsche collectors on auction day for such a low ownership, low mileage, rare classic like this one."
Complete with original tools, radio, windscreen transfers, wallet, service manuals and ownership paraphernalia, the car's history file includes six service stamps in the original service book and many invoices from Porsche specialist Chris Best from 'Two-Plus-Two'. A large number of bills and photographs document the complete restoration process, as well as letters between the current owner and the supplying dealer in 1975.
To find out more about the 1975 Porsche 911 Carrera 2.7 MFI Coupe and Silverstone Auctions NEC Classic Motor Show Sale visit silverstoneauctions.com/1975-porsche-911-carrera-27-mfi-coupe.