All-natural knitwear specialist overhauls brand to attract new customers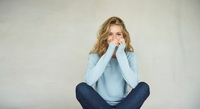 WoolOvers, the knitwear specialist, has unveiled an extensive rebranding, as it develops its business here, in the UK and internationally.
Beginning life in 1989 as a small country show brand, WoolOvers has served over one million customers all over the world. They boast nine, separate, international websites, three of which are fully translated.
Following extensive customer and market research, the recent rebranding will be used as a platform to accelerate growth within the business and attract new customers.
These changes are now identifiable in WoolOvers' seasonal catalogues, re-platformed UK and international websites, refurbished factory shop and updated HQ.
WoolOvers' CEO, Neil Sansom, explains why the recent rebranding is so important to the success of the business:
"Our recent rebranding was the final building block required in the transformation of the business. We have modernised and professionalised everything from the ground up, so it made absolute sense that we rebrand. Now that we are full-steam ahead with this process, we feel we can now go to market as a fresh and relevant, contemporary retailer. Our fantastic, new styles, products and heightened customer experience will ultimately drive growth and accessibility, resulting in an expanded customer base."
The brand is investing heavily in TV and press advertising to debut their new look and feel. Their first TV commercial is scheduled to air in Central England at the end of November.
A large aspect of the brand's newness rests upon the new styles and yarns, recently introduced.
Buying Director at WoolOvers, Richard Harris, talks about why the brand's new products are key to the rebrand's success:
"The modern and relevant nature of our new products increases our brand's accessibility. We feel we are both further servicing our core customer, and reaching out to an intended customer with this season's simple, yet fresh everyday staples in pure and blended, all-natural yarns.
We are firmly on this trajectory for next year's spring/summer products. The notable volume of newness in this season's product portfolio will be doubled next year. We'll have even more to inspire and delight!
Whilst we're ringing the changes, we are still strongly committed to using only natural fibres in our superb, long-lasting, machine-washable knitwear. This is something that will never change."

Discover their new-look site, and listen to Richard discuss their new products and yarns at woolovers.com.