Langley Castle becomes a dog's favourite watering hole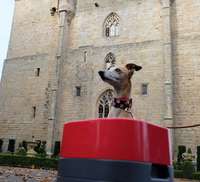 Luxury hotel and restaurant, Langley Castle, in Langley-on-Tyne, Northumberland has become the discerning dog's favourite watering hole thanks to recognising the health needs of its canine customers.
The four-star 14th century hotel, which dates from 1350, has taken its dog-friendly policy up a tier, by ensuring its doggy guests have constant access to liquid refreshment in the form of H2O, by serving their supply up in the much-praised PetWeighter™ bowl.
By buying in bowls fit for a king, the castle has heeded PetWeighter's H2Ovember message and fully appreciated the need for dogs to stay well hydrated all year round and not just in the hot summer months.
PetWeighter™, with its two-part design that encompasses a detachable bowl on top of a base that can be filled with water, sand or a combination of both, cannot be nudged by the dog, which means spillages do not occur. Similarly, it cannot be kicked over by human guests!
Its elevation is also kinder on an older dog's joints, by not requiring dogs to stoop. This affords the extra touches Langley Castle likes to offer to all of its guests, human or canine.
The first dog to try out the bowl was hotel guest, Daisy the Whippet, who was suitably impressed by the new drinking and eating facility and adopted a regal air whilst enjoying her refreshment.
Also giving the bowl the thumbs up as an asset for sojourning canine guests, is TTouch Instructor, behavioural counsellor, author and animal shelter consultant, Sarah Fisher of Tilley Farm. Sarah says: "I love the idea of PetWeighter™, particularly for people that travel with their dog and may not have much space to transport a stand. Many fearful dogs are worried about lowering the head to drink from a bowl and easy access to water is so important when dogs are in a novel environment."
With PetWeighter™ on tap, dog-friendly Langley Castle is looking forward to welcoming more pooches on its £10 per night doggy accommodation deal. Whilst dogs cannot lounge on the sumptuous four-poster beds in the castle's Feature and Deluxe rooms, they can still enjoy the luxury of the Castle View rooms and be treated to a soft bed and food and water, not to mention 12 glorious acres of grounds to explore and the delights of Hadrian's Wall and Kielder Forest on the doorstep.
More details of Langley Castle can be found at langleycastle.com whilst further details of PetWeighter™ are at petweighter.com.