7 American private companies making billions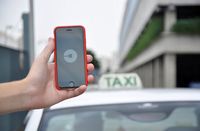 As Americans, we love a rags-to-riches story, and that applies as much to companies as it does to the people who build them. That's why we've compiled this list of seven American-grown companies that are now making billions. Check out their stories and annual revenue as reported by Forbes.
Uber
Through a smartphone app, Uber connects drivers with people who need a ride. The app also facilitates the payment process. This service has revolutionized the ride-sharing industry. People love Uber because it costs less than a standard taxi ride and drivers can set their own schedule and make as much money as they want.
Uber is not yet available in every U.S. city, but it's growing quickly and has a presence in most large cities. The company is privately held and was founded in March 2009 in San Francisco, California. In just a few short years, the company reached $1.5 billion in annual revenue because of its dedication to innovation. Even though competitors are popping up, such as Lyft, Uber is an industry leader.
Amway
A pair of salesmen, Jay Van Andel and Richard DeVos, founded Amway in 1959 and grew their brand into a profitable business. Most consumers are familiar with the Amway brand. The company manufactures and distributes health and beauty products through independent consultants. Amway's line of products includes vitamins, makeup, hair and skin care products, and cleaning supplies. The company frequently adds new products for its consultants to sell and promote. Headquartered in Ada, Michigan, Amway makes more than $9.5 billion in annual revenue.
Dell
Dell was started in 1984 by a 19-year-old with a vision of how computers should work. The company has grown into a global brand that now sells all sorts of technology products, including computers, printers, televisions, and cameras. Dell also has a popular build-to-order service to help buyers customize any computer. The company is based in Round Rock, Texas, and has $54.9 billion in annual revenue. That's not too bad for a company that started out with a $1,000 investment.
Albertsons
Albertsons is the second-largest grocery store chain in the United States, with more than 2,200 stores. The company was founded by Joe Albertson in Boise, Idaho, in 1939, but has grown to have stores in 29 states. The original Albertsons store was in a class of its own. It had an ice cream shop, free parking, and a money-back guarantee. The grocery company still strives to stand out from its competitors by offering excellent service. The Albertsons brand has partnered with several other large names throughout its company history, such as Skaggs, Super One Foods, and Safeway. Albertsons has an annual revenue of $58.7 billion.
Mars
Mars is known around the world for its confectionary treats such as M&M's, Snickers, Milky Way, Twix, Hubba Bubba, and Skittles. The company had a humble beginning in Tacoma, Washington, in 1911. There are now six divisions of the company, including a pet care line. Mars is still a family-owned business and has an annual revenue of $33 billion.
Airbnb
Americans are always looking for ways to save money, and Airbnb has given people a more affordable and fun way to travel. Through the Airbnb website, you can book vacation rentals, apartments, and single rooms within a person's home. You can even rent a room for as little as $25 per night. The company is still young — it was founded in 2008 in San Francisco, California. Airbnb has quickly grown to include rentals around the world and is now valued at $30 billion.
Bloomberg
Bloomberg is a media, financial software, and data company. It was founded in 1981 by Michael Bloomberg with a 30 percent investment from Merrill Lynch. Its biggest product is the Bloomberg Terminal, where people can access analytical tools and data services for equity trading and other financial services. The company also runs Bloomberg News and Bloomberg Television, where it reports on financial matters. This Midtown Manhattan business quickly grew in popularity and now has an annual revenue of $9 billion.
As these businesses demonstrate, anybody with a passion and a good idea has a chance to start a business and make billions.