Incredible 80-mile Porsche 911 Sport Classic goes on sale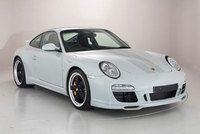 With production limited to just 250 models, a ducktail rear spoiler and twin-domed roof among a host of modifications and upgrades, the 911 Sport Classic is one of the most collectable modern Porsches – and Hexagon is delighted to offer for sale perhaps the best example in the world.
Having covered just 80 miles, to say this right-hand drive model has been cherished is a huge understatement. It is presented in as-new condition, a true time-warp car whose bodywork, interior and mechanicals look just as they did when the original buyer took delivery seven years ago.
And what a car to cherish. With the ducktail rear spoiler, front lip spoiler and Fuchs-style alloys a clear nod to the fabled 2.7 RS of the 1970s, the Sport Classic pays homage to its brilliant forbear, but adds modern touches such as PCCB carbon brakes and the wide body from the four-wheel drive models.
With rear-wheel drive and no turbochargers though – just that normally aspirated 3.8-litre flat six modified to 402bhp – it's a purist's plaything. Further neat additions include that motorsport-inspired twin-domed roof, subtle grey racing stripes and 20mm lower ride height thanks its sports chassis package.
The specification list doesn't stop there though. The 911 Sport Classic also packs yellow brake calipers, a sports exhaust system with larger tail pipes and limited slip differential, while the cabin doesn't skimp on quality with aluminium door skins, a Nappa leather wheel and Bose sound system. Presented in Sport Classic Grey, this car naturally comes with a full history and will be soldwith a fresh MoT and a 12-month warranty.
Hexagon Classics Chairman Paul Michaels said: "The 911 Sport Classic was such a hit with Porsche collectors that the 250-car limited run sold out even before the company officially announced it. It's not hard to see why – it harks back to legendary 911s like the 2.7 RS but mixes those classic cues with some well-chosen modifications to make it a proper enthusiast's machine.
"Because it's not a Rennsport car, it's a 997 that has always flown a little under the radar – just look at the spotlight that's fallen on the RS 4.0 and GT3 models for example – but that hasn't stopped its stock from quietly rising. All those upgrades make the 911 Sport Classic a really rather wonderful package after all."
"Finding one with 8,000 miles on the clock would be hard enough, let alone 800 miles – but with a barely believable 80-miles, this is the best 911 Sport Classic on the market anywhere in the world. It looks like it has just rolled off the line in Stuttgart, with not a mark on its paintwork or leather trim. We're privileged to have it in stock and there's no doubt it's the ideal addition to any Porsche collection."
This Porsche 911 Sport Classic is available to view now at Hexagon Classics' flagship showroom in north London.