Further evolution for the 2017 Mitsubishi Outlander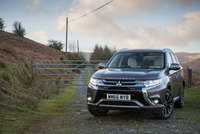 The Mitsubishi Outlander PHEV is the UK's best-selling Plug-in Hybrid Electric Vehicle. At its introduction in 2014 it effectively created the ultra-low emission vehicle segment, notching up 10,000 sales in the UK within the first ten months and amassing a total sales figure of 26,600 by the end of 2016. The vehicle is derived from the third generation of the Mitsubishi Outlander (which pioneered the 'cross-over' vehicle design concept with the Mitsubishi Airtrek in 2001 and has sold 1.5 million units globally since launch) but was developed from the ground up to be driven by either an internal combustion engine or hybrid technology and as a result there are no compromises in terms of packaging, practicality or drving dynamics.
The Mitsubishi Outlander PHEV offers the best pure EV range of any of its competitors, has the lowest emissions of any all-wheel drive vehicle (and remains amongst the lowest-emitting vehicle of its plug-in hybrid competitors) and is the only AWD vehicle to utilise electric power to drive both front and rear wheels for superior traction both on and off the road. It is also the only plug-in hybrid to offer rapid charging (up to 80% in approximately 25 minutes) and adjustable regenerative braking, which is controlled via the steering wheel paddles to further enhance the driving experience.
Extensively revised in 2016, the Mitsubishi Outlander PHEV vehicle continues to take the automotive world by storm and now the new Outlander PHEV has arrived, representing another evolution in technology, safety and dynamic performance. The Mitsubishi Outlander PHEV is in showrooms now with prices starting from £34,749 (excluding the £2,500 Plug-in Car Grant)
What's New?
EV Priority Mode
For 2017 Mitsubishi introduces a new EV Priority Mode across all variants. The new EV switch is located below the 4WD button and once activated, it allows the driver to operate the vehicle in EV mode without the engine starting, provided there is sufficient charge in the batteries. An electronic parking brake is also new to the 2017 Outlander PHEV, as well as the brake auto hold button function which, when activated, holds the vehicle in traffic or on an include the same way a handbrake would, allowing the driver to release the footbrake.
Technical Updates
Across all variants, the 2017 Mitsubishi Outlander PHEV powertrain and chassis has been revised, with new dampers and rear suspension bushes, making it a quieter and more refined to drive than ever. Rapid charging has also been improved, reducing its charging time to 80% from 30 minutes to approximately 25 minutes, and its pure electric range is increased to 33 miles, up from 32 miles. The 2017 Outlander PHEV also delivers more performance with improved acceleration in EV mode compared to its predecessor. CO2 emissions have also been lowered by 1g/km to 41g/km, with an average weighted fuel consumption of 166 mpg – a 6.4% increase versus the previous version. Regenerative braking technology, which works to put lost energy back into the battery when slowing down and which can adjusted while driving using the steering wheel paddles, has also been upgraded for 2017 Outlander PHEV - the drive battery output has been improved by 10%.
Safety features have also been further developed and improved on the 2017 Mitsubishi Outlander PHEV. Forward Collision Mitigation technology, standard on the Mitsubishi Outlander 4hs and 5hs versions, now features Pedestrian Detection for added safety, while Blind Spot Warning and Rear Cross Traffic Alert have both been introduced on the 4h variant to assist the driver when reversing out of a space. For example, if traffic is coming from the right, the icon located on the right-hand mirror will light up, accompanied by an audio alert.
Another colour has been added to the Mitsubishi Outlander PHEV colour palette in the form of Cool Silver. A shark-fin antenna is now incorporated in the roof line and there is a secure charge-point cover linked to the central locking. For a more refined exterior look, Outlander PHEV also features silver roof rails, as well as clean chrome accents on the sills.
Inside, the new Electronic Parking Brake and auto-hold button are located to the right of the 4WD and the new EV Priority Mode switches on the centre console. The console, and other key surfaces, have been finished with a black ash design and chrome accents and, as before, it is extremely well finished with soft-touch switches and ambient lighting flooding the floor area and centre console box. A four-spoke heated steering wheel, with a thick high-grip rim, fine leather trim and multiple control switches, completes the upmarket cabin feel.
The Drive
Its low centre of gravity and excellent weight distribution make for exceptional driving dynamics, further enhanced with suspension updates for 2017. The Outlander PHEV offers an ultra-smooth driving experience, with a 2.0-litre petrol engine and a seamless transition between three driving modes (EV, series hybrid, parallel hybrid), which combine to deliver optimum performance regardless of driving conditions.
4WD
The Mitsubishi Outlander PHEV is unique in offering adaptive four-wheel drive with twin electric motors driving the wheels. The front and rear axles are each equipped with their own high-output motor to deliver acceleration even more powerful than a 3.0-litre petrol engine, while maintaining an incredibly responsive 4WD performance.
Performance
0-62mph in 11 seconds
Delivers up to 244lb/ft of torque
It has 1,500kg towing capacity – ideal for a medium-weight caravan
CO2 from 41g/km
Official Combined Cycle Fuel Economy Figure of 166mpg
THE THREE DRIVE MODES AVAILABLE ON THE 2017 MITSUBISHI OUTLANDER PHEV:
EV Drive Mode
EV Drive Mode is an all-electric function in which the front and rear motors drive the vehicle using only electricity from the drive battery. With zero on-road petrol consumption and zero CO2 emissions the driver can enjoy a quiet and very eco-friendly performance for up to 33 miles, subject to weather conditions, driving style and the usage of the car's electrical and climate control systems.
Series Hybrid Mode
In Series Hybrid Mode the petrol engine operates as a generator supplying electricity to the electric motors. The system switches to this mode when the remaining charge in the battery falls below a predetermined level and when more power is required, such as accelerating to pass a vehicle or climbing a steep gradient.
Parallel Hybrid Mode
The system switches to Parallel Hybrid Mode when the vehicle reaches high speeds. In this mode, the high-efficiency petrol engine provides most of the motive power, which is then assisted by the electric motors as required; such as when more powerful performance is needed to accelerate or climb a slope.
Mitsubishi Outlander PHEV 3H – From £34,749
Externally, the new Mitsubishi Outlander PHEV 3h is fitted with 18-inch alloy wheels and LED DRLs with headlamp washers as standard and in terms of comfort and convenience it feaures a long list of standard equipment including a touchscreen Display Audio system with DAB and Bluetooth, Rear View Camera, an Electronic Parking Brake with Brake Auto Hold and the new EV Switch. Steering wheel paddles, for adjusting the level of regenerative braking, are also standard, as is dual-zone climate control; automatic lights and wipers; cruise control and speed limiter; rear view mirror with auto dimming and electrically retractable door mirrors.
Mitsubishi Outlander PHEV 4h – From £39,399
The Mitsubishi Outlander PHEV 4h builds on the high specification of the 3h with the addition of LED front fog lamps, Blind Spot Warning and Rear Cross Traffic Alert. A 360 degree camera function (displayed on the infotainment system display) which can be activate via a steering-wheel button is also standard, while the 4h version also features leather upholstery with heated front seats and electric driver's side adjustment; Mitsubishi's MMCS touchscreen infotainment system with satellite navigation; a power operated tailgate and a heated steering wheel.
Mitsubishi Outlander PHEV 5h – From £43,899
The Mitsubishi Outlander PHEV 5h adds a touch of luxury with a new premium Nappa leather interior available in a choice of three colours: Claret Red, Porcelain Beige or Gunmetal Grey and heated seats in the rear as well as the front. The main headlamps feature LED main beam lighting while blue LED mood lighting (including puddle lamps) creates a soothing interior ambience. Twin rear USB charging ports, Outlander bonnet badge, a rear spoiler and a premium Alpine audio system have also been added.
The Mitsubishi Outlander 4hs and 5hs versions add a full suite of active safety systems including Auto High Beam, adaptive cruise control, forward collision mitigation with pedestrian detection, unintended acceleration mitigation, front and rear parking sensors and lane departure warning.
Outlander PHEV Key Benefits
33-miles in pure EV mode
'Save' button allows the driver to save charge
'Charge' button allows the driver to charge the car using the petrol engine
EV Priority mode lets the driver maximise EV miles
Benefit in Kind tax for company car drivers is just 7%
CO2 emissions just 41g/km weighted average
Exempt of London congestion charges
Commercial variants available
The Outlander PHEV range is also backed by a five year, 62,500-mile warranty. For an additional £500, customers can purchase the Mitsubishi Service Plan, which covers scheduled maintenance for the first three years.