Redrow boosts buoyant Basildon housing market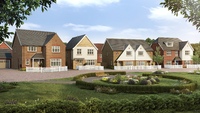 High demand for homes is pushing up prices in Basildon and with the launch of a second Redrow development in the town, homebuyers will have more to choose from.
Properties at St Nicholas Mews are proving hugely popular, with around 45 homes sold in just 10 months.
The need for additional housing in the area is evident in the volume of enquiries Redrow has received about its new Westley Green development – more than 1,500 people have expressed an interest in the just-launched scheme.
Kerry McCoubrey, sales director for Redrow Homes (Eastern), explains: "House prices in Basildon increased by almost 20% in just 12 months, making it one of the strongest performers according to figures from the Office of National Statistics. We know from the success of St Nicholas Mews and the strong interest shown in Westley Green that there's a real demand for new homes in Basildon and we're working hard to increase the supply of housing in the area."
Between the two locations, there's a good choice of three, four and five-bedroom properties from the sought-after Heritage Collection.
Inspired by the architecture of the Arts & Crafts era, they combine characterful exteriors with high specification interiors designed to meet the demands of modern family living.
By the end of the current financial year (June 2017), Redrow will have built around 70 homes at St Nicholas Mews and work on the first phase of Westley Green, on Dry Street, will be progressing well.
The wider Westley Green scheme will see up to 725 new homes built.
"By building new homes and offering buyers increased choice we can help alleviate some of the pressures on the local housing market so that people can step on to or move up the property ladder," Kerry adds.
"An added benefit is that we're providing employment opportunities and investing in the local community. For example, the St Nicholas Mews development is providing funding for schools and health services, plus we will be making a donation to the community hall and creating a play area; while future phases of Westley Green include plans for a new primary school. It's all part of our commitment to creating better places for people to live in."
Properties at Westley Green are currently being marketed via St Nicholas Mews, where a show home is open daily from 10am to 5.30pm.
To find out more about Westley Green see redrow.co.uk/westley.