Green light for new Rowley Regis homes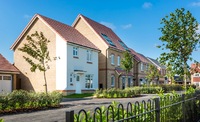 Construction has begun on 188 new homes at the new 'Regis Park' development, in Rowley Regis, as part of a long-standing partnership between home builder Countryside and Sigma Capital Group plc.
The move on site will see Countryside embark on an exciting new scheme to bring much-needed, private and affordable housing into the historic parish of Rowley Regis. It also marks the start of the homebuilder's expansion into the West Midlands, following the recent launch of its Wolverhampton office.
Located near the Rowley Hills on Doulton Road, 90 of the new three and four bedroom homes will be available for sale on the open market through a number of home buying initiatives, such as the Help to Buy scheme.
The remaining 98 two, three and four bedroom properties will be made available on the rental market under the DifRent brand, providing tenants with expertly managed, quality, new build family homes in excellent commuter locations throughout the North West and Midlands.
Peter Vella, Regional Sales and Marketing Director at Countryside, commented: "Having only launched our new West Midlands office in 2016, the start of this development is an important and exciting milestone for Countryside. This new scheme promises to deliver high quality, mixed-tenure homes that will play a key role in building and enhancing the local community for years to come.
"We've worked with Sigma Capital Group on a number of award winning developments in the North West and look forward to replicating this success in Rowley Regis."
Matthew Townson, Development Director at Sigma, commented: "Following our successful development programme in the North West, Sigma are delighted to have embarked on our first DifRent scheme in the Midlands together with our construction partner Countryside and funder Gatehouse Bank. Rowley Regis is a great location and we are confident that rental demand will be strong for our high specification family housing."
Situated just 1.2 miles from Old Hill railway station and 30 minutes from Dudley, Wolverhampton and Birmingham, the new 'Regis Park' development benefits from excellent transport links and easy access to a range of local amenities.
Each of the new homes is being developed to a high quality specification to offer local families the unique opportunity to be part of the area's impressive transformation at an affordable price.
For more information about the new homes coming soon to Rowley Regis visit countryside-properties.com.