5 things every small business needs to do to get ahead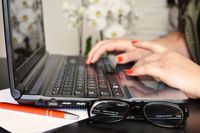 Running a small business can sometimes feel like you're out on your own at sea, with budgets, business plans, social media notifications and unexpected maintenance fees swirling underneath you. But with so many tricks and tips out there aimed at assisting small businesses, keeping your pipe dream ticking over has never been easier - it's just knowing what the best practices are. Here are a few things every small business should do to stay afloat.
Have a business plan
Though many businesses eventually go down the route of hiring business plan writers to create something in-depth, this isn't essential. You can write your own business plan before investing extensive time and money into your new venture, and still achieve the same clarity and vision you need to push forward.
In your business plan, it's imperative that you define your vision, the reason for your company existing, your goals and how you intend to achieve them. This won't require pages and pages of bullet points and notes, in fact the simpler the business plan, the better. The ultimate outcome at this stage is organisation and a clear plan of action.
Set a budget
It's unrealistic to expect that you'll be able to effortlessly maintain costs and continue to see your business profit without a proper budget. Drawing one up in the early stages will keep you focussed and is always a useful habit to get into for the future.
Budgets are essential because they help to clearly outline how much money you have, how much you're going to need to spend, and how much profit you need in order to meet your goals and continue operating. They can also be useful to share with employees, giving the entire company a view of what they need to achieve in order to progress.
Create a website
In this day and age, having a web presence is more or less expected from businesses, regardless of size. With domain sites like GoDaddy and HostGator, you can search for your desired URL and purchase it for an affordable yearly fee.
The same goes for actually building the website – you don't need to be a tech wizard to create a simple but effective page. This way, your services and/or products and contact information are easily available to Internet users across the world.
Keep maintenance costs low
When setting up your small business, keeping maintenance costs low can help you to trim extra expenses and put the money to better use. One way to keep costs down is by purchasing second-hand furniture and equipment from sites like eBay and Overstock. Even if you do need top-of-the-line models for certain aspects of your business, it's important to know where to spend your money so it counts the most.
Keeping an eye on your maintenance costs over time will aid in pinpointing places in which your business is bleeding money and identify how to make cuts. This is especially relevant where building maintenance and overheads are concerned. Using tools like a smart meter, you can see exactly how much energy you are consuming in pounds and pence and discover opportunities to cut back on your energy usage.
Take full advantage of social media
Social media isn't limited to millennials any more. These days, it's utilised by a wide demographic and for varying purposes. For you and your small business, it can be a useful tool for connecting with customers across the globe.
Once you find where your customers are hanging out online, you can use these platforms and pages to engage with them, listen to their needs and complaints, and share the latest information about your business and products.
When you own a small business it's easy to get bogged down by everyday worries. Taking control of the things you can change is crucial in protecting your business against the things you can't – while the New Year is the ideal time to evaluate your next steps.