Discover the advantages of a brand new home in Horsforth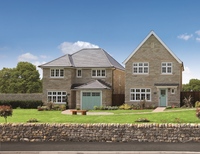 Award winning homebuilder Redrow has found itself totally in step with a new survey by the NHBC Foundation.
A film promoting the advantages of a brand new home at The Green at Horsforth Vale, near Leeds, comes hot on the heels of a recently published guide by the National House Building Council*, which confirmed all the advantages of purchasing a just-built house rather than investing in an older property.
"If buyers are going to spend hundreds of thousands of pounds buying a property, there are many reasons why they are wiser to spend it on a new one," says Patsy Aicken, sales director for Redrow Homes (Yorkshire). "And, just like the NHBC Foundation survey, our new video highlights a few of them in Horsforth."
Today's homes are designed with bright, modern interiors and practical features like en-suite bathrooms and downstairs cloakrooms, all of which make life – especially busy family life – far easier.
New homes are built to be energy efficient so they can save homeowners who have previously lived in older, less well insulated properties, so much money, while simply being economical and cosy for those who have only ever bought new.
"But the list really goes on," adds Patsy. "Our homes are fitted with top of the range appliances, which are all new and guaranteed so owners should get years of problem-free use out of them.
"And how nice to know that no-one has ever taken a bath in the bathroom before anyone in your family or used the shower, and not to have to live with other people's bizarre and baffling tastes in décor.
"Another body, the Home Builders Federation, has estimated that it could cost as much as £40-£45,000 to bring an older property up to the same standard as a new build property once you factor in things like replacing the kitchen and bathroom, a new boiler and central heating system and a new roof."
And what better place than Horsforth to discover the benefits of a brand new home? Just six miles from Leeds and boasting some excellent shops, bars and restaurants, plus a choice of good schools, the area was hailed as one of the most popular places to live in the Sunday Times 'Best Places to Live List' last year.
The Green is one of two neighbouring developments by Redrow at Horsforth Vale, off Calverley Lane, and currently offers a range of four-bedroom homes from £323,950. And for those who hanker after a bit of period-charm these homes couldn't be better; they boast traditional Arts & Crafts inspired exteriors and period-style features, but all the modern attributes inside of a brand new home.
House hunters who want to make a smart move and become part of a new and evolving community, while finding out about all the benefits of buying new, can visit the show homes and sales centre at The Green in Calverley Lane, open daily between 10am and 5.30pm. Alternatively, visit redrow.co.uk/thegreen.