Brits flock to birdwatch: Young men are the most likely to have been birdwatching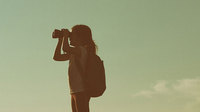 While news this week broke that birdwatching can improve mental health, it seems that it's young Brits who are the most likely to flock towards the hobby. New research from Mintel reveals that 23% of Brits have been birdwatching in their spare time, peaking at 32% of men aged 16-24. And while the pursuit may be easier to take part in away from cities, it appears that London is Britain's birdwatching hotspot. Indeed, some 29% of Londoners have reached for the binoculars to birdwatch, in comparison to just 11% of consumers in Wales.
Further showing that young Brits are harking back to more traditional pastimes, Mintel research indicates that those aged under 25 are just as likely as those aged 55+ to have taken up knitting and needlework. Two in five (41%) consumers aged 16-24 have knitted or sewn in their lifetime, with the same proportion of those aged 55 and over (40%) having taken up this hobby. Similarly, the same trend can be seen in the ageless art of photography: half (49%) of Brits aged 16-24 and those aged 55+ and over (48%) have taken part in photography.
Overall, Brits of all ages appear to be longing for a digital detox as 81% agree that it is important to spend time outdoors to get away from mobile phones and the internet. Today, Mintel research reveals that Brits are most likely to be found reading a book or a magazine (81%), going on day trips (79%), or baking and cooking (70%) in their spare time.
Helen Fricker, Senior Leisure Analyst at Mintel, said: "Consumers of all ages are taking up hobbies with which their grandparents would have been familiar. With such fast paced lives, people are seeking time to relax and unwind far from the madding crowd, and hobbies such as birdwatching provide this escape. The presence of social media and mobile apps, as well the as availability and standard of smartphone cameras, are likely to be a contributor to this trend."
When it comes to taking up new hobbies, Mintel research reveals that British consumers are more likely to be inspired by popular cultural figures such as Mary Berry and Keith Brymer rather than athletes like Laura Kenny and Mo Farah. One in three (33%) Brits say TV programmes such as The Great British Bake Off and The Great Pottery Throwdown inspire them to try new hobbies. In comparison, just one in six (16%) say that they were inspired by the Rio Olympics to try new sports.
"Television shows such as The Great British Bake Off, The Great Pottery Throwdown and The Great British Sewing Bee have made the UK fall back in love with baking, knitting, and arts and crafts. We find that consumers in the UK are more drawn to leisure activities that don't involve too much effort or physical activity and traditional pastimes seem to be fulfilling this desire." Helen comments.
Finally, Mintel research highlights the importance of 'me time'. Given the choice, nearly half (47%) of British consumers say that they prefer to spend their free time doing solo activities, while 23% prefer spending their spare time with a few people doing small group activities and just 4% favour large group activities like exercise classes and team sports.
However, it seems that a significant minority of consumers have no time to spare at all, with 37% saying they don't have enough free time to pursue their interests and hobbies.
"As UK consumers feel that they don't have enough free time to pursue their hobbies and interests, it makes sense for them to seek the most effective ways to recharge their batteries. Overall, there seems to be a general desire to escape from hectic lifestyles, long working hours and always-connected smartphones by seeking the intimacy and quiet of a solo retreat." Helen concludes.