Why rent when you can buy a stunning new home at Himley View in Kingswinford?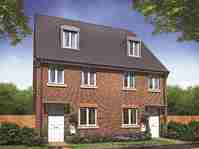 Renters in the West Midlands who are tired of lining their landlords' pockets could find that buying a brand new home at Taylor Wimpey's Himley View development in Kingswinford is more affordable than they might have imagined.
Home hunters looking to take their first step on the property ladder and stop throwing their money away on rent can choose from a selection of impressive three and four-bedroom houses at the development which are available with the fantastic Help to Buy scheme!
Help to Buy enables eligible first-time buyers and those with a property to sell to access a Government loan for up to 20% of the full price of their new home – so they can secure a three-bedroom property priced at £195,995 at Himley View with a 75% loan-to-value mortgage of £147,000 and a 5% deposit of £9,800.
This means that, with mortgage rates remaining at an all-time low and the Help to Buy loan being interest free for the first five years, purchasers who've previously been renting may find their monthly outgoings are considerably reduced.
Those choosing the three-bedroom 'Brecon' (plot 242) priced at £195,995, for example, may only need to find as little as £452.21 per month for their mortgage repayments – compared to average rental prices of £720 pcm for a typical three bedroom property in the local area.
Elaine Cartwright, Regional Sales and Marketing Director for Taylor Wimpey, says: "We can help renters to make an investment in their own futures by choosing from our wonderful range of high-quality properties on offer at Himley View.
"Prospective purchasers who have had enough of throwing their money away on rent will find that the Help to Buy scheme is making stepping on or up the property ladder much easier and more affordable than they had thought. In fact, they may well find their monthly mortgage repayments are less than the amount they've been paying in rent!"
Help to Buy is available on new-build homes up to the value of £600,000 and there is no salary cap for customers who take advantage of the scheme.
Himley View benefits from a convenient location close to the amenities of Kingswinford and Gornal Wood. It lies just five miles from the wide range of facilities available in thriving Dudley, including Merry Hill Shopping Centre which is home to more than 200 stores, places to eat, leisure and entertainment venues.
Parents will appreciate the wide choice of primary and secondary schools near Himley View, while for commuters, the A461, A449 and M5 are all within easy reach and public transport connections provide links to Birmingham, Wolverhampton and the rest of the Midlands. Birmingham International Airport is about 30 miles away.
To find out more about stepping on the property ladder in style at Himley View, property seekers can visit the Sales and Marketing Suite, located off Stallings Lane, Kingswinford, West Midlands, DY6 7LS, and open daily from 11am to 5pm.
Alternatively, visit taylorwimpey.co.uk.