Plenty of family fun on offer this May half term in Shakespeare's England!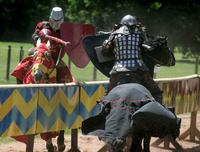 Visit Shakespeare's England this May half-term from 27 May – 4 June for plenty of family fun! Watch live jousting at Warwick Castle, discover Shakespeare's scenes and themes through games at the Royal Shakespeare Company, learn how to felt wool at Mary Arden's Farm, try your hand at quill writing at Shakespeare's Schoolroom & Guildhall or handle Strawberry Hermit Crabs at Stratford Butterfly Farm! With so much to see and do, there is something for everyone to enjoy and experience this May half term.
War is coming to Warwick Castle as the all-new Wars of the Roses LIVE jousting spectacle takes centre stage. Guests must pledge allegiance to either the House of York or the House of Lancaster. Set in a riverside arena, designed to host vocal audiences of 2,000, Wars of the Roses LIVE reveals the extraordinary events that ripped apart England 600 years ago. Experience a spectacular never before seen in the UK, complete with perilous stunt riders, fearless jousters and state of the art special effects as the Wars of the Roses unfolds before your eyes. The spectacle is included in castle admission at no extra cost.
The Royal Shakespeare Company (RSC) is offering families a whole host of activities including celebrating the RSC's current Rome season, taking a whistle stop tour of Shakespeare's epic Roman plays and learning how to unlock language and characters. Visitors can also design a Shakespeare inspired Manga character at a workshop led by professional artists and enjoy free family fun every second Saturday of the month as part of the RSC's brand new family activities at The Other Place.
Visit the Shakespeare Family Homes with lots of fun activities for all the family to enjoy. Watch traditional sheep shearing demonstrations, learn how to felt wool and make a felt bead at Mary Arden's Farm. Take part in Tudor games on the lawn at Shakespeare's Birthplace and follow the flower trail around the garden. Learn the Tudor technique of copying portraits called pouncing at Shakespeare's New Place. Over at Anne Hathaway's Cottage discover how the family of Anne's brother, Bartholomew Hathaway lived and find out how life at the cottage was so different to William's and Anne's family life in Stratford. Explore the grounds of Hall's Croft and track down Croft's conjuring creatures.
Visit Shakespeare's Schoolroom & Guildhall and step into the life of William Shakespeare as a young schoolboy. See the Guildhall where his father once worked, the place where he would have sat and watched a professional theatre company for the first time. Sit in the Schoolroom he once attended and take part in a Tudor lesson with Master Thomas Jenkins.
Craft a Tudor Rose taking inspiration from their appearance around the Guildhall plus there's the opportunity to dress up in Tudor costumes and try your hand at quill writing. Younger Shakespeare fans can also enjoy storytime sessions with the author of the Shakespuss series of picture books.
At Stratford Butterfly Farm take part in Meet the Minibeast handling sessions where children and adults, under the supervision of the friendly and informative Education Team, can get close to some amazing creatures, such as Madagascan Hissing Cockroaches, Giant African Millipedes and Strawberry Hermit Crabs. These will take place twice a day in the Discovery Zone. Over in Minibeast Metropolis find some of the worlds' largest spiders living alongside beetles, stick insects and reptiles. Look up and discover Leafcutter Ants on overhead ropes, working hard collecting leaves to bring back to their colony.
Discover animation at the British Motor Museum and make your own short animated film with a motoring twist! Create a storyboard and build a model car to star in your animation using Animate It!, the motion animation software developed by Kudlian Software and Aardman - the world famous Animation studio and creators of Wallace & Gromit, Shaun the Sheep and Morph. The script is everything, so start thinking about the plot for your film now! Visit the new exhibition which opens on 19 May entitled "British Motoring Treasures: the British Motor Car in Fifty Objects". The exhibition, which will run until March 2018, will showcase the depth and variety of the nationally-designated collections held at the Museum.
Get inspired and interactive at The MAD Museum with weird and wonderful machines that have been invented by crazy artists from all around the world. Visit the new interactive area the 'MAD Zone' where you will find a giant marble wall for kids (and big kids!) to build marble runs plus there's a hands-on cogs wall to experiment with and a table full of building blocks to build crazy marble run routes on. Solve and unravel puzzles with the free family activity pack and enter the design competition to win prizes.
Book onto a Trivia Trail quiz trail answering a mix of historical, observational and a couple of fun questions as you walk round Stratford-upon-Avon or Warwick town centres. Enjoy some light-hearted competitiveness with prizes for the winning team. Cost is £10 per adult, £3 per child aged 9-16 and free for 8 and under. Scheduled dates and times are 6pm on 26 May, 1.30pm on 27 May, 11.30am & 2.30pm on 28 May in Stratford-upon-Avon and 12noon on 29 May in Warwick.
Journey back in time to the Golden Age of Queen Elizabeth I at Kenilworth Castle on 28 & 29 May for Elizabeth: The Pageant. Celebrate Kenilworth's Elizabethan heyday as the ultimate party palace with music, falconry displays, and a feast of entertainments fit for the Virgin Queen. Robert Dudley, Earl of Leicester, will be showing off skills which made him Master of the Royal Horses - and he will be joined by the queen herself. From 30 May – 2 June younger visitors can step back in time to 400 years ago and imagine life at Kenilworth's Tudor palace. Learn sword skills, Tudor moves and experience the best bits of life as a young Tudor royal.
The Leamington Spa Art Gallery & Museum are running the Mini OPEN for those aged 7 – 15 from 14 April - 25 June. Find inspiration from the artists, artworks and objects on display and show your creative skills! All art forms are welcome from filmmakers to painters. Winners will receive a Waterstones gift voucher and have their work displayed in the Mini OPEN Exhibition in the Art Gallery.
Watch Peppa Pig: My First Cinema Experience in the cinema at the Royal Spa Centre on 30 May, 1 & 3 Jun at 11am, or 31 May, 2 & 4 Jun at 2:30pm. Or see a production of Sarah and Duck's Big Top Birthday on 3 June at 2.30pm on the Main Stage. The enchanting world of Sarah and Duck is brought to life in a brand new stage show, featuring the wonderful characters from the BAFTA award winning CBeebies show and told through a fantastic blend of puppetry, storytelling and music.
Visit the Alcester and Forest of Arden Food Festival on 20 May. Over 100 exhibitors will be offering the very best of cheeses, pies, artisan breads, cakes, fresh and cured meats and sausages, fruit and vegetables, pickles, oils and preserves, kitchen equipment, a pig roast, award-winning street food, handmade chocolates, local beers, ciders, wines and spirits. Best of all entry is free!

For more suggestions and family friendly accommodation in Shakespeare's England, visit shakespeares-england.co.uk.