Grand Pier launches all-inclusive family day out package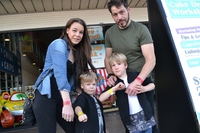 Weston-super-Mare's Grand Pier has launched a new all-inclusive package for a family day out.
The new 'Mega Deal package' costs less than £60 for a family of four. It includes entry to the pier for four, two Unlimited Rides Wristbands for the adults, two Kiddies Wristbands (valid for children up to 10-years-old), and meals for two children and two adults.
Michelle Michael, co-owner of the Grand Pier, said: "When you look at the costs of a family day out at other attractions and theme parks, our new Mega Deal really does represent exceptional value, especially since it includes food and drink for a family of four, which most others don't.
Michelle added: "The Mega Deal is something new we are doing as a trial to see if customers would prefer the convenience and the savings that they can enjoy by booking a package online before they visit the Pier. We know families come in other sizes, and if this trial proves popular we will look to develop other options in the future."
The Grand Pier offers a variety of attractions for all generations of a family, including the Sidewinder; the Robocoaster; F1 Simulators; Go Karts and the Laser Maze. With the Mega Deal customers can enjoy the seaside favourite Fish and Chips in the newly redeveloped Boardwalk Cafe.
The Mega Deal needs to be booked online in advance, and is available at weekends and during North Somerset school holidays.
To book a Mega Deal family package holiday on the Grand Pier, please visit: grandpier.co.uk Terms and conditions are on line.