Grand Pier helps visitors beat the burn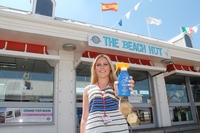 The Grand Pier in Weston-super-Mare is all set to help people beat the burn this summer as its Beach Hut shop provides free sunscreen for people to use.
Grand Pier general manager, Tim Moyle, said: "Here on the seafront the cooling breeze on a hot sunny day makes it all too easy for people to start to burn, and when you're out for the day there's nothing worse than sensing you're going to burn. We see lots of red arms, legs, heads and shoulders on the Pier and so this year we thought it would be great to provide people with a convenient emergency sunscreen service to help protect them from damaging UV rays."
Anyone feeling the burn on the seafront at Weston-super-Mare can pop into the Beach Hut shop, at the shore-end of the Pier, and ask at the counter to use the sunscreen.
Tim continued: "The highest factors and total sunblock will be available to ensure the maximum protection for exposed skin. This should help to ensure visitors can keep enjoying their day at the seaside.
"Understandably people can be reluctant to buy a whole new bottle of expensive sunscreen when all they need is a small amount to protect the bits that are feeling the heat. So we decided to run a trial this summer to offer people an easy and convenient
way to get the sun protection they need, when they need it."
The Grand Pier, Weston-super-Mare is one of the South West's most popular tourist destinations, boasting indoor theme park rides, a Go-Kart circuit, F1 simulators, soft play and slot machines.
Free sun protection cream is available now on request at the Beach Hut shop at the shoreside entrance to the Grand Pier and is subject to availability during an initial trial period that runs until the end of August 2017.
For more information, visit grandpier.co.uk