Durham Distillery - the real deal handcrafted small-batch distillery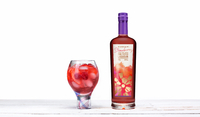 Craft distiller Durham Distillery has launched its brand new Strawberry and Pink Pepper liqueur, boosting its bespoke range of gin and vodka.

The small-batch craft distillery, based in the outskirts of Durham, has been distilling since 2013 and is one of the UK's most traditional distilleries, using only the highest quality ingredients and a 400 litre copper pot called Lily (after the owner's daughter). Its Strawberry and Pink Pepper Liqueur has been produced using Durham Gin – their top quality handmade gin, infused with extra pink pepper for added warmth and fresh pressed strawberry juice.
Originally producing solely Durham Gin, the company, founded and led by Jon Chadwick, branched into Durham Vodka and some seasonal products in 2014, having experienced success with previous launches its newest liqueur will now be available all year round. Managing the entire distilling process in-house, the team of six produces just a couple of hundred bottles at a time to ensure maximum quality, with absolutely no shortcuts taken.

Jon Chadwick, founder and owner of Durham Distillery, explains: "We produce gin and vodka with genuine integrity – hand-crafting small batches using traditional methods and excellent ingredients, by people who are truly passionate and knowledgeable about what they are doing.
"Our head distiller, Jess Tomlinson, oversees every step of the process from the very beginning of the distilling through to the actual bottling of the final product. To say she really cares about what she does is an understatement – a comment you could probably make about all of us here.
"We're a small operation, so don't have to sell millions of litres annually to break even, our aim is offering a quality and delicious product to the discerning gin or vodka drinker. Those who may drink less but drink better!
The range

Durham Strawberry and Pink Pepper Liqueur
Durham Gin, fresh pressed strawberry juice and pink pepper combined have resulted in this deliciously fruity and warm liqueur. Great served with Prosecco, your favourite mixer or simply over ice. Available in 70cl bottles from £20, 20% ABV.

Durham Gin
Made to a unique recipe of botanicals including juniper, celery seed and pink peppercorns, this handmade gin is available in 70cl from £27.50 and 20cl from £10, 40% ABV.

Durham Vodka
The vodka is triple distilled and slow filtered in small batches, available in 70cl from £27.50 and 20cl from £10, 40% ABV.

The Durham Distillery Way…

Durham Gin
Firstly, juniper berries are hand crushed and added to other robust botanicals, including angelica and pink peppercorn. This combination is placed into a mixture of locally sourced spring water and pure grain spirit and left to infuse, or macerate overnight in the still. The next morning a second batch of botanicals is added and the still heated, making vapours rise through a copper tube called a lyne arm. Mounted on the lyne arm is the gin basket which contains the third and final set of lighter, more delicate botanicals.

Its distinctive flavours...
Spicy - the pink peppercorn creates a warm spicy top note
Savoury - celery seed adds a distinctive savoury character
Sweet - finishing with the light floral sweetness of elderflower

Durham Vodka
The tails of the gin are gathered and slowly filtered through a custom built filtration column, based on the Lincoln County column used by Jack Daniels. It takes up to two weeks to filter and once complete the lyne arm of the still is changed over, and the filtrate redistilled. Another round of distilling takes place as required to ensure the finished article is perfect. The result of all of this process? A few hundred bottles of smooth, clean vodka a month.

Durham Gin, Durham Vodka and the Strawberry and Pink Pepper Liqueur are stocked in Majestic Wines nationally, numerous shops, bars and independents across northern and southern England, and can be purchased directly on the website with P&P only £5 per bottle, or spend more than £100 and P&P is free at durhamdistillery.co.uk/shop/