On your marks! F1 Challenge launched at the Grand Pier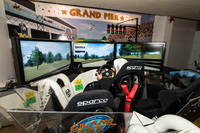 The next Lewis Hamilton could be discovered in Weston-super-Mare as the resort's top attraction launches its Formula One Simulator Challenge.
The Grand Pier is calling on thrill-seekers, racing enthusiasts and anyone looking for a challenge to take part in the competition which will run throughout the summer.
With the first prize being a Virgin Five Supercar Blast Driving Experience, the stakes are high and the winner will be the person to secure the fastest time on the attraction's popular Formula One Simulator.
Each participant will race using the same circuit and times will be recorded by an attendant.
Tim Moyle, general manager at the Grand Pier, said: "We are so excited to be launching this Formula One Challenge; we have been wanting to do something like this for ages and now all the mechanics are in place to make it happen.
"We know how competitive people can get with challenges like this so we're expecting to receive lots of entries. And you never know we might just discover the next Formula One star!"
The competition will run from Friday 14 July until Thursday 7 September. Those wishing to take part should inform an attendant who will be able to make sure the settings and circuit are correct.
Once the circuit is complete the time is put on an entry card verified by the attendant. The top 20 times will be announced on the Facebook page daily and the overall winner will be announced after the 7th of September.
Full terms and conditions can be found on the website at grandpier.co.uk.