Chance for buyers to make an easy move - thanks to part exchange event in Gloucestershire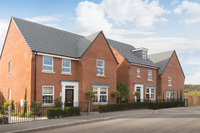 Buyers in Gloucestershire are being offered the chance to move up to a new home in double quick time - thanks to a special part exchange event at Thurston's Rise in Coleford on Saturday July 22 and Sunday July 23.
The David Wilson Homes development presents an attractive selection of four and five bedroom homes - perfect for a wide range of buyers and lifestyles. And buyers can discover the best way to secure one of these new homes during the part exchange weekend.
"Our part exchange scheme is ideal for buyers who want to move to a spacious new home at Thurstan's Rise," said sales director Louise Ware. "It is so frustrating for buyers who think they have found their dream home - only to be let down by the fact they can't sell their own property.
"We want to keep this an exciting and enjoyable time by providing a short cut through the entire process. That is why we offer part exchange."
Part exchange removes all the uncertainty associated with a move. David Wilson Homes is a guaranteed cash buyer - so there is no chain, no last minute price haggling and no hidden costs. And people can stay in their existing property until their new home is ready.
"Visitors to Thurstan's Rise will gain access to a team of experts ready to provide advice on all aspects of the buying process," added Louise. "This is our chance to help make everything as straightforward as possible so that buyers can enjoy everything that is great about buying a home."
Set in the small market town of Coleford Thurstan's Rise features plenty of open space and easy access to the open countryside.
Coleford high street is just five minutes away, offering a range of amenities including a supermarket, independent shops, restaurants, cafes and a leisure centre.
"This is the perfect opportunity for people to come and secure a bigger house," said Louise.
To find out more about part exchange at Thurstan's Rise, visit dwh.co.uk.