Q&A with Gary Peeling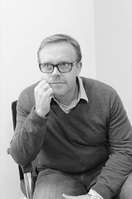 Since 1966, Precision Printing has been proudly serving the printing industry. As a way of commemorating this momentous occasion, their team is sharing their insights into their professions and industry. Here, we have a Q&A with Group CEO Gary Peeling.
What role do you serve within the business?
As a 'General Practitioner', a CEO leads the executive team. If I were to break down my working week, it would tend to look like this:
- Marketing / Sales and Business Development 50%
- Operational Efficiency 20%
- Finance 15%
- HR / People 10%
- Other 5%
What career path led you to where you are now, and how long have you been with the business?
To begin with, I started as a teaboy and worked my way up from there; I've worked for the business for 30 years.
As CEO at Precision, what does the average 'day in the life' look like?
I usually start during out-of-work hours at 7 am. In a demand-led business, it's valuable to help get things done while things are quiet.
After this, I'll walk the production floors to make sure that everything is running smoothly. This is better than any dashboard or report, as you can see the projects in-hand, customers we are busy with and products that are selling well – as well as the machinery and departments that are busy.
Once I've done that, I'll walk back to my desk to review our ecommerce channels and see how profits are performing. I use the quiet time to complete more complex cost and business proposals, analytical or planning work.
Once everyone else has started working, I will then check all of my emails.
Generally, most days will involve a couple of meetings – with one being offsite and 2-3 being conducted on our site.
I usually finish work at around 6:30 pm.
During your time at Precision, what has been a career highlight?
There's certainly been many, as I've been with the business for a long time, but some of my highlights include:
- Shipping 50,000 orders in a single day
- Winning UK Print Company of the Year
- Launching "Oneflow" workflow software as a commercial business
- Being appointed Dscoop Global Chairman
Over your time, have you noticed any particular industry challenges?
As printing is a traditional form of media, many believe that physical printing will become obsolete and eventually replaced with digital formats. This has resulted in reduced demand and margin pressure based on perceived value.
How are things now?
The industry is therefore changing, which means it's not declining. Now as digital marketing costs increase and the channels become more congested, printing is starting to look like remarkably good value.
What would you like people to know more about your industry?
When emerging technologies are monetised within the industry, these often involve printing and graphic arts. Apple Mac, Digital Photography and The Web and e-commerce are just three examples.
Who are your business role models and why?
The G.M. at HP Indigo, Alon Bar Shany. Alon has led a revolution in digital printing, managed a huge global business yet still somehow manages to meet and know most of his significant customers.
For those aspiring to become a CEO, what advice would you give to them?
Keep moving and innovating, because believe it or not every business is slowly dying as soon as it is born. Never think it's too late or something is too complicated. It rarely is.
For those wanting to work in print, what advice would you give to them?
There's never a dull moment working in an industry that involves technology, being creative, marketing and producing things. If you can understand different business sectors – it's going to be the perfect industry for you, and there's certainly never a dull moment.
What do you enjoy to do outside of work?
I enjoy spending time with my family, travelling the world and cycling.
In a sentence, give us some snappy business advice.
The secret to opportunities is taking them.
Precision Printing is a North East-based company specialising in a range of services, including framed prints. CEO Gary Peeling has been working at the business for 30 years, working his way up to his current CEO position. He loves cycling in his spare time, and knows the words to Billy Joel songs by heart.