Enjoy an autumnal break in Shakespeare's England!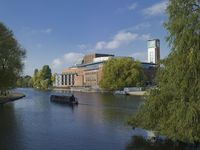 Enjoy an autumn break in Shakespeare's England with a host of cultural, historical, arts and garden events. Take in theatre performances, live music, food festivals, fireworks displays, or simply relax enjoying traditional afternoon tea in front of roaring fires. With so much going on, treat yourself to a mini break this autumn and explore the stunning county of Warwickshire.
This autumn the Royal Shakespeare Company (RSC) presents Shakespeare's war play, Coriolanus from 15 September – 14 October, the delightful comedy, Twelfth Night, featuring Adrian Edmondson as Malvolio and Kara Tointon as Olivia from 2 November – 24 February and a new stage adaptation by David Edgar of Dickens' seasonal classic, A Christmas Carol from 27 November – 4 February with Phil Davis as Scrooge. All three plays run in the Royal Shakespeare Theatre. In the Swan Theatre see Marlowe's rarely performed Dido Queen of Carthage from 15 September – 28 October and Imperium, a major new adaptation by Mike Poulton of Robert Harris' best-selling Cicero novels from 16 November – 10 February.
Warwick Words History Festival runs from 2 – 8 October and will host acclaimed authors and guest speakers. A celebration of historical writing, fact and fiction, the Festival will show-case the history of Warwick and the county of Warwickshire. Special guests include Dan Jones, Alison Weir Charles Spencer, Dr Janina Ramirez, A N Wilson, Alexander McCall Smith, Peter Snow, Juliet Barker, Marcus Berkmann, Sarah Dunant, Lindsey Davis and Peter Stanford plus many more.
Visit Ragley Hall for the Fireworks Champions on 9 September. Firework displays run as a competition with 3 teams firing against each other. Guests vote for the winner after the final display. Organisers, MLE Pyrotechnics, fire a larger closing display after the voting finishes. Adults cost £20, Children cost £10 and a Gazebo is £25. The Autumn Big Dog Walk takes place on 30 September through the woodland walk. £5 admission.
Hill Close Gardens host their Apple Day & Country Fair on 15 October. The popular event features displays, craft stalls and children's workshops in the unique 16 detached gardens. There are over 60 varieties of heritage apples growing in the different gardens and many will be on display in the glasshouse. Local food producers will be present alongside bee keepers, plus tree and plant sales and live music. Locally produced cider will be on sale alongside apple juicing. Entry is £3 for adults and 50p for children.
Visit Stoneleigh Abbey to see Tread the Boards Present Wuthering Heights on 18 September and 'Jekyll and Hyde' on 6 & 7 November. Guests can arrive at 7.00pm with the production starting at 7.30pm. A bar is available. Tickets cost £20 per Adult
Fastlove: A Tribute to George Michael takes place on 28 September at the Royal Spa Centre & Town Hall in Leamington Spa. Featuring songs from Wham classics of the 'new pop' revival to the chart topping success of the eighties album Faith. Tickets cost £22. Sean Kelly and the stars of Storage Hunters take place on 4 October. Sean will be joined by T-Money and Green Mile. Sean has led a crazy life, from holding a Top Secret military clearance and serving a combat tour in Iraq, catching shoplifters as an undercover store detective in Italy and headlining the MGM Grand in Las Vegas.
Chedhams Yard Harvest Day will take place on 30 September to celebrate the Harvest with seasonal produce on display and for sale and the popular fruit pressing. Visitors can bring bags of their own fruit and have it pressed. Enjoy a talk about Wonderful Wood on 23 September with Steve England who will be talking about wood found in the UK, its strengths and weaknesses and how it has been used for many centuries from household utensils to buildings and ships. Both events are open 10am - 2pm and entry is free.
See A Midsummer Night's Scream on Thursday 26 October at Stratford Artshouse - a celebration of the Decadent, Dark Side of Burlesque and Cabaret ready for Halloween. The show will feature burlesque, magic, dance, hula hooping, pole dancing and sword swallowing! Not for the narrow minded this show promises you a spooktacular night to remember! Suitable for those aged 15 or over. Tickets cost £20/£15 Student Concession.
Film lovers are in for a treat as the Shakespeare Film Festival returns to Stratford-upon-Avon from 21 – 23 September with a series of outdoor screenings, film and animation workshops celebrating Shakespeare's influence in film. This year's programme launches with a screening of Omkara – a Bollywood adaptation of Othello (with English subtitles), followed by Disney's The Lion King which is heavily influenced by Hamlet. The films will be shown in the beautiful setting of the Great Garden at Shakespeare's New Place.
Discover the Social Secrets of Fashion in the Elizabethan age with social historian Nic Fulcher on 11 November from 4.30pm – 5.30pm at The Shakespeare Centre. Discover how power dressing helped Elizabethans get ahead and the links between fashion trends then and now. Tickets cost £8.
Visit Shakespeare's Sisters Soaps at the Cfadgg17 Contemporary Arts Fair Discover:Gather:Give at Stratford-upon-Avon Town Hall from 4 – 5 November . This exciting and eclectic arts fair gathers together the best local and regional artists. Over 40 artists will be displaying their work plus there's the vintage Golden Cup Café serving tea and cake. Visitors can buy on the day or commission unique and inspiring gifts from the artists in time for Christmas at the November Fair.
Attend a photography exhibition by photographer Lorentz Gullachsen at the Stratford ArtsHouse from 8 September – 3 October. "AQUA" celebrates water in the UK and across the World and comprises of a selection of large Archival Prints and a screen based display of images providing an insight into the AQUA world.
Visit the Leamington Food & Drink Festival on the 9 & 10 September at the Pump Room Gardens and experience the best of Leamington's food and drink. The Stratford Food Festival will take place on 23 - 24 September with over 100 stalls plus demonstrations from town centre chefs and producers at The Waterside Cookery Theatre, workshops and hands-on classes. The Taste and Ale Trails will again give visitors the chance to try tasty treats from around 20 restaurants, cafés, bars and pubs.
Take a guided tour of the Cotswolds with Go Cotswolds, who provide small group tours from Stratford-upon-Avon. Take in the autumnal colours whilst visiting the picturesque towns of Chipping Campden, Broadway, Stow-on-the-Wold and Bourton-on-the-Water, as well as sights and beauty spots including Broadway Tower, Dover's Hill and the Rollright Stones.
Playbox Theatre has announced their new season from September – July 2018 with a year of festivals at The Dream Factory to celebrate the joy, creativity and boundless energy of young people Almanac 2017-2018. Mercedes-AMG Petronas Motorsport support Formula X to headline a Festival of Speed with an action packed, multimedia production.

For more suggestions and recommended accommodation in the area, visit shakespeares-england.co.uk.