Lagging A&E wait time targets already a concern before closures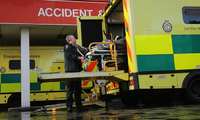 Serving patients in need of medical treatment for a variety of health issues has always been the primary focus on the NHS. However, over the course of the last decade, a focus on reducing costs associated with providing health care the millions of individuals in the UK has become a top priority. Several shifts have been made within the system to promote a reduction in operating expenses, but some argue they are at the peril of the quality of patient care. Last month, data released regarding patient wait time targets in accident and emergency units shed light on a growing problem. Instead of patients receiving a medical diagnosis for their health issues and timely treatment and release from the hospital, reports show multiple NHS trusts missing the recommended wait time target of no more than four hours.
Patient wait time targets are meant to promote efficiency throughout the health care system in the UK, and the publishing of this data is revered as a method to offer transparency to patient organisations, the government, and the patients in need of care. But a deeper rooted problem has been uncovered with the release of wait time target reporting, given that the 95% ideal mark has been missed consecutively for the past two years. In some A&E settings, more than 10% of patients waited over the four-hour time frame to receive diagnosis and treatment, leaving them in limbo and experiencing unnecessary anxiety about their well-being. Although these statistics have been lackluster for some time, the NHS continues to give its attention to reducing costs through a variety of questionable methods.
A&E Departments Slated to Close
The increase of patients visiting A&E units has been a cause for concern for medical providers for some time, with reports showing an uptick of nearly 3% over the last year alone. Based on the growth of the population and its rate of aging, experts believe these numbers will continue to rise, creating a situation where the ability for short-staffed NHS trusts is severely reduced. However, even with the external pressures well-known, the government has begun the closure or downgrade of two dozen emergency departments in various regions of the country. Based on a sustainability and transformation initiative to take place over a five-year time frame, A&E units are shutting down in an effort to relieve some cost pressure for the entire health care system.
While the strategy behind the closures and downgrades makes sense from a financial perspective, some are concerned that reducing the number of available facilities will do little more than dissuade patients from seeking out the care they need. Health care authorities cite a need to transition individuals away from visiting A&E units for less serious medical conditions and toward GPs and primary care departments instead. Additionally, the use of medical advancements focused on at-home care strategies is on the rise – a factor that could undo the stress placed on NHS trusts across the board. Should A&E units be able to focus solely on more severe medical issues of high-need patients, wait time targets may be positively affected in the near future even with the planned closures. The unfortunate reality is that several other factors are in play which could negatively impact the quality of care patients receive.
What it Means for Patient Care
Transforming the health care system to focus more on preventative care and wellness is a noble move in the eyes of many patient advocacy groups, but the way in which the shift is being done may put patients at risk. A solicitor from a medical negligence firm working with claims on A&E departments on a regular basis explains that additional aspects of the health care system may have been given less attention than needed. Bed-occupancy rates throughout NHS trusts are higher than ever, meaning patients who have already been diagnosed and treated are staying in the hospital longer than medically necessary. Part of the reason for the duration of some patient stays is the reality that few social and at-home care services are readily available at the time a patient is meant to be released. This means that patients in need of urgent medical attention are unable to receive it in a timely fashion, putting added pressure on wait times throughout the system. Closure of A&E units without addressing the bed occupancy rate will not improve wait time targets, and patients may suffer the consequences by way of delayed or less than quality medical care.
Overall, the moves being made within the NHS are, financially speaking, beneficial to the sustainability of the system. However, forcing these changes over a short period of time without having the appropriate resources available to patients will not immediately improve the level of success A&E units have in meeting target wait times. Instead, the quality of health care patients receive may suffer until a viable solution addressing all relevant aspects of health care is presented.