A Complete Insurance Guide for The Prepared Traveller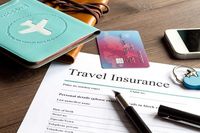 "I'm only travelling for a few days, what is the worst that can happen?" "I haven't fallen ill in the past few years, I don't see what will change in the next few weeks."
These are common answers people give for travelling without an insurance. It is easy to disregard the importance of one because you never know when you will need it. But between 2014 and 2015, 17,000 Britons required assistance for some sort of emergency. This is a whopping number.
Imagine the complications that could arise if you don't have a travel insurance. Think about medical conditions, allergic reactions, theft and other unexpected occurrences. Suppose the flight is cancelled and you are stuck indefinitely in a transiting country with no extra cash on you?
If you are with children, things can get even more serious. Did you know it costs £45,000 to charter an air ambulance from the east coast of the US? In fact, travelling without insurance can be akin to driving with a blindfold - you are not guaranteed anything.
But the good news is that for a token amount, you can get a cover that will be enough to cater for you or your travelling party for the duration of the trip. No qualms, no hassles.
Don't ruin what would have been a perfectly wonderful trip simply because you were trying to skimp on a few pounds.
Travel insurance- what you should know
No two premiums are the same. Whichever you choose, it is important to ensure you are getting good value for money as well as a cover that is suitable for your trip. While there may be extras, the following are the basics of travel insurance:
- Cancellation and curtailment
There are many reasons to cancel a trip; some may be out of your hands, like an airline suddenly cancelling its flight. Now suppose the only other flight to your destination costs more? A proper plan will see you get on it without being stranded or emptying your bank account.
Other reasons for cancellation may be personal, like a medical emergency, or an inability to extend your trip due to high costs. It is advisable to take out a maximum premium cover of £3000 for the entire holiday.
However, read the fine details carefully. Some people may cut their trip short because of the medical emergency of a friend. While it is a legitimate reason for you, the insurance provider may think otherwise because they are not directly related to you.
- Delay
If your flight is delayed for more than 12 hours, you deserve to be compensated. To prevent any misunderstanding regarding this compensation, verify with the airline and get it in writing. Ensure you keep the receipts of every purchase made during the delay. The extra cost of the delay shouldn't be borne by you, especially if it wasn't your choice. The total amount will depend on the distance. Distances between 1,500km and 3,000km require a compensation of £350 - £400. For the full details please see the Citizens Advice compensation list.
- Luggage and property
If your baggage or personal belongings are stolen, lost or damaged, the insurance policy should pay at least £1,500. It is also common to see many vacationers place an amount on personal belongings such as iPads, laptops and drones. While limits differ for various insurance providers, the range is usually between £250 and £500. If you get robbed during the vacation, the pay-out is limited to £250 - £500.
- Personal liability
This occurs if you injure someone. Suppose you operate a drone while on holiday and it injures someone, or you damage their property, you will be expected to pay if they make a claim against you. Therefore, it is recommended you take a cover of up to £1 million.
- Emergency help
Some insurance companies provide round-the-clock emergency care which can be valuable, especially if you are in a different country. For instance, if you need to talk to a professional about a personal issue, a 24-hour helpline can provide relief.
- Medical cover
This is perhaps the most sought after travel insurance. You risk incurring a huge medical bill if you fall ill or sustain injuries while abroad and have no insurance. In 2013, British couple Zowe and Sam were stranded in Spain when they had a baby with health complications. The couple didn't have medical insurance which made their situation worse.
Experts recommend a limit of £2 million medical cover if you are travelling overseas. It might also include a repatriation if you need to be flown back to the UK. The amount you need is up to you, but a doctor's check-up can inform your decision.
You can still travel while pregnant, but some insurance providers have terms and conditions regarding pregnancy policies. There are limits to the cover, for example, many insurers put a cap on 24 weeks.
Additional insurance covers
Besides the main insurance covers, you can choose to customise your policy with additional covers.
For pre-existing medical conditions
If you have a medical condition such as asthma, a standard insurance cover won't be enough. It is advisable to disclose any serious medical conditions when buying a medical insurance because most standard policies do not cover them. However, there are available specialist policies for pre-existing medical conditions.
Frequently asked questions about travel insurance policies
Do I need a worldwide cover?
Most providers offer a worldwide cover, but you will find covers for Europe more common. Wherever you plan to travel, always confirm that it is covered by your policy. Europe-only covers are cheaper than other countries such as US and Canada
Should I buy an annual or single trip insurance?
This will depend on how often you travel each year. If you travel once a year or once every few years, you can buy a single trip insurance, but if you travel frequently (say twice or more every year), an annual multi-trip travel insurance will suffice.
There are multiple insurance covers for any kind of trip you might make. While you don't need to buy every single type, a standard policy is always the best decision. Nothing makes a more pleasant vacation like one that gives you total peace of mind.