Durham Cask Aged Gin - aged to perfection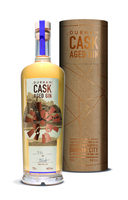 Craft distiller Durham Distillery has launched a limited release Durham Cask Aged Gin, with just over 1,000 bottles produced, signed by head distiller Jess Tomlinson.
Durham Cask Aged Gin embraces the art of cask ageing, most commonly used in whisky distillation, creating a richness of colour not commonly associated with gin. The cask ageing process has also added a fourth level of flavor to Durham Gin's unique combination of botanicals.
Jess Thomlinson, head distiller, explains: "I wanted to experiment with the cask aged process and produce a unique gin offering. We used two complimentary types of aged oak casks, American Bourbon and Spanish Oloroso Sherry, to create ours – adding fruity and honeyed complexity with subtle vanilla and citrus zest top notes.
"The American Bourbon cask itself offers a vanilla bean, caramel and oak finish, while the Spanish Oloroso offers spicy sweet fruit with honey and orange peel. The combination just works so well and tastes really, very special.
"We have designed beautiful new presentation tubes, with the artwork inspired by the roundels at Durham Cathedral and indeed our logo. We feel it offers a modern interpretation on the shapes and design."

The small-batch craft distillery, based in the outskirts of Durham, has been distilling since 2013 and is one of the UK's most traditional distilleries, using only the highest quality ingredients and a 400 litre copper pot called Lily (after the owner's daughter).
Originally producing solely Durham Gin, the company, founded and led by Jon Chadwick, branched into Durham Vodka and additional seasonal products in 2014. Managing the entire distilling process in-house, the team of six produces just 300 bottles at a time to ensure maximum quality, with absolutely no shortcuts taken.

Durham Cask Aged Gin

Limited edition, Durham Cask Aged Gin, has been created using two complimentary types of aged oak casks, American Bourbon and Spanish Oloroso Sherry. Available in 70cl bottles from £40, 46% ABV.