Bellway hosts seminar for First Time Buyers in Welwyn Garden City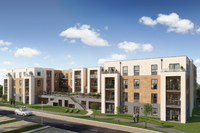 Buying your first home is an exciting but daunting prospect. Most of us dream of owning our own home and crave the security that comes along with it, but for those who haven't yet made the leap, it can be difficult to know where to start. From navigating the mortgage market and considering legal requirements, to the constant feed of news stories about the younger generation's struggle to join the property ladder, first time buyers are faced with a minefield of both choice and confusion.
In fact, a new survey by NatWest found that first time buyers are so disillusioned that two thirds over-estimate the cost of purchasing a home. Over a third of those who don't already own a property believe they will never be able to get onto the ladder; and an overwhelming 82 per cent of those questioned believe Brexit to be a damaging factor to their buying prospects.
In reality, however, home ownership amongst first time buyers is at a record high. 162,700 first-time buyers achieved their homeownership goals in the first half of 2017, against the odds presented in the media.
Experienced housebuilder Bellway Homes is keen to help first time buyers take their first step on the property ladder with a seminar arming them with the knowledge and confidence to make informed decisions.
Bellway's First Time Buyer seminar will take place on Saturday 18 November, hosted by a group of guest experts who will give guidance and advice, including:
- JDC Independent Financial Advisors – a guide to the finance and mortgage process
- New Homes Law - legal and conveyancing experts' step-by-step guide to the buying process and the associated costs and fees
- Phoenix Interior Design – specialist tips on how to turn a house into a home, with style advice on furnishings and colour schemes.
Michelle Harris, Sales & Marketing Director, Bellway, comments: "Many first time buyers are put off purchasing their own home or have delayed their search simply because they don't know where to start. We want to show first time buyers that the dream can become a reality if you are armed with the right knowledge.
"After hearing from the experts who will talk through the complex and important issues associated with buying, guests can learn more about the fun bit - choosing colour schemes, buying accessories and furniture and turning the bricks and mortar they have just purchased into a home to call their own.
"While there are a number of steps to buying a property, we want to fill first time buyers with confidence so it doesn't detract from the excitement of making that jump onto the ladder."
Bellway's First Time Buyer Seminars will take place at Bellway at QEII, Ascots Lane, Welwyn Garden City AL7 4HQ on 18th November 2017 – scheduled from 10 - 11.30am and 1 - 2.30pm. To book your place at this exclusive event, email queII[at]bellway.co.uk