Bellway buyers using Help to Buy to move to Mulberry Park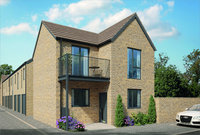 The Help to Buy scheme is helping a number of people make the move to a new development of homes in Bath.
Around 40 per cent of buyers at Bellway's Mulberry Park development have taken advantage of the scheme to help them buy a new home.
The five-star housebuilder is offering a selection of one to five-bedroom homes at the development, which is being built in Combe Down, just three miles from the city centre. A variety of high-quality homes, including apartments and houses are being built, with a range of two and four-bedroom homes currently available to buy.
The Help to Buy scheme was introduced in April 2013, and has been used in the purchase of over 134,000 properties. When used, the scheme allows buyers to purchase a new home with a five per cent deposit and a 75 per cent mortgage. The remaining 20 per cent is provided in the form of an equity loan, which is interest free for the first five years of home ownership.

The scheme can be used by first-time buyers or homeowners to purchase a new-build home with a value of less than £600,000.
Sales Manager for Bellway's South West division, Rachel Way, said it was easy to see why many were using the Help to Buy scheme to make the move to a new home.
She said: "Help to Buy has been incredibly popular with people looking to purchase a new home ever since it was first introduced, but we're seeing more than the average amount of buyers using the scheme at Mulberry Park.
"Everyone associates Help to Buy with first-time buyers who use the scheme to make it easier to save for a deposit, but it actually has huge advantages for current homeowners as well. The scheme lets you borrow interest free for five years and can give you a competitive rate on your loan after five years as well.
"While the majority of people using the scheme are first-time buyers, more and more homeowners are realising that the scheme could make their money go further when they are planning their next move. We've been visited by lots of people who have purchased a larger home than they were previously looking at by using the scheme.
"Mulberry Park has been a great success so far, and we're seeing a fantastic new community coming together. We've already welcomed a whole variety of different residents to their new homes, including first-time buyers, downsizers, young professionals and families.
"We're looking forward to talking to more home-hunters in the area in the coming months, and hopefully they will be impressed by what we have to offer."
This year Bellway has been named as a five-star housebuilder by the Home Builders Federation (HBF) after more than 90 per cent of its customers said they would recommend the housebuilder to a friend as part of the National New Homes Survey, which measures customer satisfaction.
Over 90,000 surveys were sent out to house buyers in the weeks after they moved in to their new home to see if they were satisfied with their chosen builder.
A five-star rating is the highest rating a housebuilder can receive, and is testament to the high quality of Bellway's homes and its exceptional customer service standards.
A variety of two and four-bedroom homes are currently available to buy at Mulberry Park, with prices starting from £305,000 for a two-bedroom home and £540,000 for a four-bedroom house.
For more information about the homes at Mulberry Park visit the sales centre, which is open between 10am and 5pm on weekdays, 10am until 7pm on Thursday and 11am until 5pm at weekends.
Alternatively, go to bellway.co.uk.