Buying a new home at Christmas is not as stressful as you might think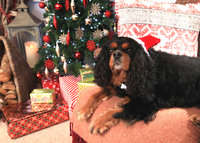 With moving house already well documented as one of life's most stressful experiences, many home hunters may now prefer to delay a move until the New Year.
Most people's idea of festive fun doesn't necessary include the whole process of buying and moving into a new home - on top of the ordinary stresses and strains of Christmas.
But with the festive countdown well and truly on, Linden Homes East Yorkshire can keep your seasonal spirits up – as well as giving you the chance to reap the benefits of buying a brand new home.
Sales manager Julie Hubbard said: "Buying a new home at any time of year is also extremely exciting, but moving at Christmas time gives you the chance to really enjoy your new surroundings and show them off to family and friends – as well as take advantage of special incentives."
Here's why a new home should be on your festive wish list:
1 You have a shiny new kitchen in which to cook your Christmas dinner as well as a fantastic dining space to entertain your guests – and set out a fabulously festive table!
2 Buyers can take advantage of the many money saving incentives available – including Help to Buy, giving you a bit more budget to spend on your Christmas shopping.
3 You won't need to think about those winter maintenance projects that can sometimes catch you out unexpectedly in an older property – including broken down boiler, replacement windows or doors, extra insulation or new guttering – because everything is sparkling new.
4 Having that ensuite shower room, extra bedroom or downstairs cloakroom allows for additional space for guests over the holiday.
5 Thinking ahead to the New Year and the energy efficiency of a new home will already mean lower maintenance and utility bills. New homes are well insulated, and include double-glazing as standard, making them cheaper to run than older homes. The costs of heating a new home will be considerably lower than those of a comparable old one.
Linden Homes East Yorkshire has a number of homes ready to move into now at developments across the region. For details visit lindenhomes.co.uk.