Edenstone homes coming soon near Malmesbury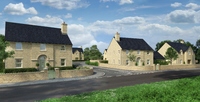 The first phase of just 10 properties is coming soon to the Wiltshire village of Crudwell.
Premier house builder Edenstone Homes is currently building on a 1.5 acre site off Tetbury Lane with the first homes due to be released in early 2018.
Giving a nod to the area's rich heritage, the scheme has been named Athelstan Park after King Athelstan, the first King of all England and one of Malmesbury's most important benefactors.
And while the first phase of Athelstan Park hasn't yet launched, Edenstone is already looking to the future and has submitted a planning application for a further 40 homes. Subject to planning, the wider scheme will offer homes with two to five-bedrooms.
Andrea Nippe, sales director for Edenstone Homes, said: "We cannot wait to launch Athelstan Park and to give buyers the chance to discover all that we have to offer. There will be just six properties available to purchase in the first phase, each with five bedrooms and with architectural styles and materials in keeping with the local area.
"For example, the properties facing onto Tetbury Lane will be constructed using natural stone with a natural slate roof tile, while those further into the site will be built from a variety of render and stone. In the design of the homes we have included features such as dormer windows, gables, recessed dormers, chimneys, a variety of fenestration detail including simple casements and sash windows."
Prices for the private sale homes will be announced when the development launches soon.
There will also be four affordable homes in a choice of two and three bedroom designs, which will be managed by Merlin Housing Association.
Landscaping will provide a soft edge to the development, helping it integrate with the surrounding neighbourhood.
A pavement will be installed to link the site to Crudwell Village Hall, plus the play area / recreation ground.
Athelstan Park will offer buyers the chance to embrace rural life in the village of Crudwell, which is only 6 miles from the market towns of Malmesbury and Tetbury.
With a primary school and a range of pubs and hotels in the area, Crudwell is an ideal location to enjoy the varied lifestyle of Cotswold life.
Edenstone Homes has built a formidable reputation for delivering high quality new homes in desirable locations across South West and South Wales.
Potential purchasers are invited to register their interest in the exclusive Athelstan Park development by visiting edenstonehomes.com/tetbury-crudwell-2.