Post-budget boost for Yorkshire first time buyers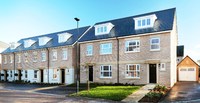 Yorkshire first time buyers have opportunities aplenty to benefit from a double helping of good news in the autumn budget if they choose a new home from Redrow.
With a good selection of Redrow homes below £300,000 – now exempt from stamp duty for first time home owners – there's potential to save up to £5,000 in numerous locations.
The Government has also confirmed a £10 million cash injection for Help to Buy, which means 135,000 more people will be able to buy a new home between now and 2021, many of them in Yorkshire.
Under the Help to Buy scheme buyers take out an equity loan for up to 20% of the property price, leaving them needing a deposit as little as 5% and a 75% mortgage from a lender of choice. The Government backed loan is interest free for the first five years and repayments thereafter are competitively priced and index linked. The home owner can pay back the equity loan at any time, without penalty, or when they come to re-sell.
Patsy Aicken, Redrow sales director in Yorkshire, said: "We're already seeing renewed interest in our properties from first time buyers, especially on those developments where we have properties below £300,000. They can potentially benefit from Help to Buy and the stamp duty exemption – and maybe use the stamp duty saving to boost their deposit. It's a win-win situation."
Someone who bought a £299,950 home pre-budget would have paid £4,998 in stamp duty; post-budget, if they've never owned a property before, they will pay no tax at all.
"Savings apply for anyone paying more than £125,000 for their first home. For example, someone paying £180,000 for a new home would save £1,100 in stamp duty, which is money they could put towards their deposit. When you're buying your first home every penny counts," Patsy added.
"Our on-site sales consultants are already up to speed with the changes and we have a network of mortgage specialists who can explain all the options to customers and help them decide the best route for their circumstances. Buying a first home can be daunting but when you choose a brand new home from Redrow there's expert help available every step of the way."
Redrow developments with properties currently under £300,000 include:
Harrogate: One and two-bedroom apartments starting from £162,950 at Devonshire Gardens, off Claro Road.
Highburton, near Huddersfield: Three and four-bedroom detached homes with current prices starting from £279,950 at Springfields, in Burton Acres Lane.
Morley: Three and four-bedroom detached homes from £289,950 at Weavers' Chase, Albert Road.
Newton Kyme, near Boston Spa: One of the last remaining four-bedroom Wellington townhouses from Redrow's Georgian inspired Regent Collection, available at £299,950 at St Andrew's Place at Southbank.
Sherburn-in-Elmet: Four-bedroom detached houses from £274,950 at Saxon Gardens, off Low Street.
Steeton: Last remaining two-bedroom apartments from only £129,950 at Manor Fields, off Thornhill Road.
York: Five-bedroom Wellington Grand townhouses from £299,950 at Lancaster Mews, off Water lane.
First time buyers choosing homes between £300,000 and £500,000 will incur stamp duty at 5% on that portion of the purchase price over £300,000, although Redrow may be able to help with payments on selected properties.

To find out where Redrow is building visit redrow.co.uk/yorkshire.