The wide awake club: Half of Brits struggle to sleep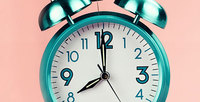 Tossing and turning night after night; it's a lonely place to be. However, Mintel's Sleep Aids UK 2017 Report reveals that bleary-eyed Brits are not alone, as today half (50%) of all Brits say they typically struggle to sleep.
Failing to hit the seven hour mark, the minimum sleep time recommended for adults, the average Brit says they sleep for just six hours and 51 minutes per day. Overall, some four in 10 (39%) adults are failing to achieve seven hours of sleep per night, with one in 20 (5%) getting by on four hours or less. Under a quarter (23%) of Brits enjoy eight hours sleep and just 9% indulge in nine hours or more.
Meanwhile, it seems the average daily hours of sleep consumers get reduces with age, falling from seven hours and 23 minutes among 16-24-year-olds to six hours and 34 minutes among the 45-54 age group.
While 81% of adults agree that getting enough sleep is as important as following a healthy lifestyle, a desperate 47% of adults say they 'would try anything' to improve their sleep quality, while only 46% say they feel well rested when they wake up.
Hera Crossan, Personal Care Analyst at Mintel, said: "Britain's sleep deprivation problem is now an epidemic – half of consumers are not getting the sleep we need. The middle-aged group are particularly struggling with sleep and there are several factors playing into their sleep reduction, ranging from the hormonal disruption of menopause to the stress and lack of time caused by raising children and looking after elderly parents, as well as balancing employment. This 'sandwich generation' is struggling to find time to go to bed, and struggling to get enough hours of sleep once they get there."
Just a third (33%) of Brits say they fall asleep without much difficulty and manage to stay asleep, declining to less than three in 10 (28%) women. Men, on the other hand, are less likely to struggle with getting shut eye as almost four in 10 (38%) say they have little difficulty getting to sleep and staying asleep.
Overall, a fifth (20%) of all Brits fall asleep without much difficulty but struggle to stay asleep, and 16% struggle to fall asleep, but once they do they stay asleep. What is more, a sleep deprived one in seven (14%) Brits struggle to get to sleep and stay asleep.
Noise is the number one source of sleep interruption, as 59% of Brits say that too much noise makes it hard for them to fall asleep. A further 57% feel too much light causes difficulty with sleeping. Meanwhile, technology is also an issue as 34% of Brits admit that using technology before they go to bed means they often have trouble falling asleep.
Finally, while three in 10 (29%) Brits complain their partner's sleeping habits interfere with their sleep quality, a worrisome one in five (22%) complain that constant pain interferes with their sleep.
"Everyday stresses and strains appear to be making it harder for UK adults to switch off when they finally fall into bed, putting them at risk of developing long-term physical and mental health issues. To an extent, a lack of sleep has become almost acceptable; as more and more tasks fill the day, time in bed is increasingly viewed as a luxury that can be relinquished when necessary. Brands could look to create campaigns that promote sleep above that of an expendable commodity and offer expert advice on how to achieve the coveted seven hours in order to better appeal to consumers." Hera adds.
Valued at £50 million in 2016, the over-the-counter (OTC) sleep aids category is expected to see limited growth in 2017, reaching an estimated £51 million. Just one in three (32%) adults have used sleep aids, with aromatherapeutic sleep aids (21%) and botanical-based tablets/capsules (14%) the most commonly used.
Brits are instead more likely to adopt lifestyle adjustments when it comes to improving their sleep. Overall, 43% of adults agree that sleep issues cannot be improved without making lifestyle changes.
Just over half (54%) of Brits avoid stimulants at certain times of the day, while just under half (47%) ensure they get sufficient exercise before hitting the sack. Half (50%) of Brits say a bath or shower has a positive impact on sleep, while 46% say the same of reading a book or magazine. Meanwhile, four in 10 (39%) see the benefits of mindfulness.
"Despite a growing culture of sleep issues in the UK, a reluctance to reach for over-the-counter sleep aids remains; growth of the category has been compounded by technology developments, as well as a preference for making lifestyle adjustments over seeking remedies. Sleep is not the expendable commodity it is increasingly treated as, suggesting that campaigns that emphasise the long-term impact of sleep deprivation on mental and physical health are crucial to engaging consumers in the sector." Hera concludes.