Don't be a damson in distress this winter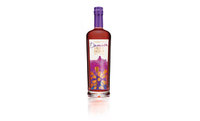 Craft distiller Durham Distillery has launched its brand new winter liqueur, Damson, Blackberry and Ginger, further boosting its range of bespoke gin, liqueurs and vodka.
Produced using their top quality handmade Durham Gin, it has been infused with the winter fruits, damson and blackberry, and ginger for additional heat and warmth.
Jess Tomlinson, head distiller at Durham Distillery, explains: "Due to the success of our strawberry and pink pepper liqueur earlier this year, we just knew we had to pull out all the stops for our winter edition – no pressure at all!
"I think it's key to get the balance of flavours just so, for example our gin balances spicy, sweet and savoury. Building on this foundation, we wanted the winter liqueur to hit the right notes. The combination of smooth damson berries, soft and light blackberry, and the warming ginger finish tastes great - it feels right for a winter tipple! We love this liqueur served with a bitter lemonade and some stem ginger or as an addition to prosecco - always a winner."

The small-batch craft distillery, based in Durham, has been distilling since 2013 and is one of the UK's most traditional distilleries, using only the highest quality ingredients and a 400 litre copper pot called Lily (after the owner's daughter).
Managing the entire distilling process in-house, the team of six hand produces just 300 bottles at a time to ensure maximum quality, with absolutely no shortcuts taken. The whole team is truly passionate and knowledgeable about what they are doing, and it shows.