Ring in the changes when it comes to moving home in the New Year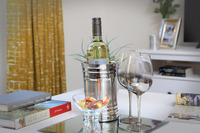 So what's your New Year's Resolution – get fitter, eat healthier, make more time for family and friends or move house?
While Linden Homes West Yorkshire can't help with all of these, the latter is certainly something the Wetherby-based developer can assist with, whether you are a first time buyer or an existing homeowner.
Apart from the huge financial and often emotional decision about moving home, buyers are continued to be faced with the dilemma of whether to buy old or new, weighing up the options of which will offer best value for money.
While older homes traditionally have larger rooms, re-decorating, installing a new bathroom or kitchen and laying new carpets are just some of the DIY jobs many of us have planned when we move into a 'used' home.
However, buying a new house can not only cut down the cost, but also put buyers in the driving seat when it comes to those finishing touches – as well as saving on energy and bills.
And with a number of existing and planned developments around the region, Linden Homes Midlands is helping to promote the 'out with the old, and in with the new' theme when it comes to moving home.
Sales manager Pat Tennyson said: "In today's market place, with so many incentives available, the argument for buying new as opposed to old has never been greater. There are massive benefits to ease the financial burden and stresses related to moving home.
"The start of a new year gives a new outlook on things and is often a positive time for people looking to move."
At a glance guide of the benefits of buying new over old:
- There's a chance to save money through incentives whether you are a first time buyer or existing homeowner, you can use the Government-led help to buy scheme, or Linden could be your guaranteed buyer through Part Exchange.
- Some developers offer incentives on particular plots which may include Stamp Duty paid, fitted carpet or flooring, or turf to the rear garden.
- House builders have perfected the moving process to make the journey as stress-free as possible.
- Older homes may have more character but they also need more maintenance than new ones, like new guttering, replacement windows or extra roof insulation.
- Energy efficiency is a major benefit. New homes are well insulated, and include double-glazing as standard, making them cheaper to run than older homes. The costs of heating a new home will be substantially lower than a comparable older one.
- New homes offer a blank canvas. Buyers can sometimes choose kitchen units and bathroom wall tiles, subject to the build stages. A new garden means there is scope for unique landscaping to suit a customer's individual taste.
- Building warranty - all new homes come complete with a New Homes Building Council 10-year guarantee or similar warranty. As well as a valuation on a second hand property, most would-be purchasers would need to pay out for a homebuyer's report - and then there is the possibility of a full structural survey on top of that!
- New homes often have features many buyers may take for granted, including ensuite facilities and added security aspects including smoke detectors.
- Location is a careful consideration with house builders when looking for a new site at which to build – with knock on benefits of schools, shops and other amenities close by benefit the new communities living there.
For details of where Linden Homes is building near you and for information on the varied incentives that could curb the cost of moving to a brand new home, visit lindenhomes.co.uk.