Townhouse luxury isn't just for Downton debutantes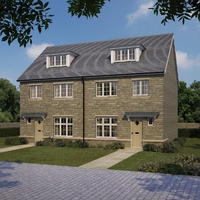 It was once the privilege of the upper classes, a practical property in the heart of the city, miles away from the country pile.
So when Lord and Lady Crawley left Downton Abbey for a fashionable ball in London it was Grantham House, their townhouse, to which they decamped.
Redrow can't offer a sprawling country estate or a basement filled with servants at their Horsforth Vale development near Leeds, but they can offer beautiful townhouses and a luxury of living that would rival even that of Downton's hosts.
"Towards the end of the 19th century, it was customary for wealthy families to own both a country house and a house in town to which they and their servants moved for the social season," says Patsy Aicken, sales director for Redrow Homes (Yorkshire). "Most would have been very grand period homes and arranged over three floors.
"Due to demographic changes, townhouses went out of fashion in the Victorian era but they are very much back in favour now, with a modern twist. And they're available in more rural areas like Horsforth Vale as well as town centres."
Redrow's Heritage Collection homes at The Green and Woodlands, both at Horsforth Vale, retain period-style features such as high ceilings and deep skirting boards, along with finer finishing on the inside and charming, English architectural designs on the outside.
The aesthetic appeal is matched only by the value of townhouse living – building up is more cost-effective than building out – and the benefits of spreading the accommodation over three floors instead of just two.
Patsy adds: "Our charming lounges are just as welcoming a place to retire to after a family meal in the open-plan kitchen and dining area – but with no Carson around you might just have to pour your own sherry!"
Neighbouring developments on the edge of sought-after Horsforth, six miles from Leeds city centre, both The Green and Woodlands enjoy a superb location, set amidst mature trees and open space, alongside the River Aire. And they both offer three-storey living.
At The Green, there is the Kenilworth townhouse, priced from £324,950. The four-bedroom property has a carefully considered layout and design that elevates it above its rivals. On the ground floor is a lounge which spans the width of the property, along with an open plan kitchen/dining area, a cloakroom and a handy laundry area. The first floor is home to three bedrooms and a bathroom.
The Kenilworth's piece-de-resistance though is the master suite in what would normally be redundant roofspace; a beautiful bedroom and en-suite shower room 'hidden away' from the hustle and bustle of the rest of the house.
Woodlands, meanwhile, offers The York semi, from £399,950. It boasts plenty of sociable, open-plan space with a large kitchen and dining area, a lovely lounge and a handy cloakroom downstairs, all with a high level of specification.
Three bedrooms and family bathroom on the first floor add to its impressive nature, while the master bedroom on the second floor makes the property shine, the perfect parents' haven, teen hideaway or guest suite.
To find out more about the homes visit redrow.co.uk/horsforth, or visit Horsforth Vale off Calverley Lane and Low Hall Road. Check the website for opening times.