World Cup 2018: Everything you need to know about Russia's host cities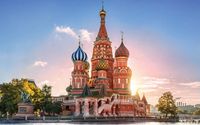 Russia may be in the news for all the wrong reasons of late, but come June 14 it's going to be welcoming tourists from all over the world.
It's going to be one of the biggest World Cups of all time and there are a staggering 3,050km between the two furthest venues apart according to an infographic by Thatsagoal studying the tournament, so if you're going, you need to plan it well.
Basing yourself in the correct city is key. We take a look at a handful of the best host cities to enjoy during Russia 2018.
Moscow
The capital has two stadiums hosting games during the World Cup and will be the hub for most nations and their fans.
With both European and Asian influences, it's a stunning city and has a lively nightlife and bar scene.
The underground makes it easy to get around and it's guaranteed Russia will have plenty going on throughout the city for the tournament, particularly in Red Square.
Saint Petersburg
Saint Petersburg is certainly one of the prettiest cities in Russia and has a very unique charm to it.
The new Zenit stadium will play host to a number of fixtures throughout the tournament and will be the basecamp of England, South Korea and Costa Rica as well as a host of others, so plenty of fans will follow.
The city has some fantastic museums for when fans are seeking downtime from the football, and you really won't run short of things to do.
Sochi
Sochi of course welcomed the Winter Olympics back in 2014 and is Russia's favourite resort city.
Many fans will head here for the sunshine and sea and the city has plenty going on in terms of bars, restaurants and nightclubs.
Poland are basing themselves in the city, while the Fisht Olympic Stadium will host one of the biggest games of the Group Stage, Portugal v Spain.
Ekaterinburg
Ekaterinburg is the fourth biggest city in Russia and is a bit of a hidden gem that will be outed this summer.
It's the host city furthest east and is home to a whopping 16 universities. What that creates is a young, hip atmosphere with dozens of edgy bars and thriving music and art scene.
Egypt's opener with Uruguay will be held in the city along with France v Peru and Mexico v Sweden.
The city won't host anything beyond the Group Stage, so it's a city worth exploring early on. It really will be worth it.
Rostov-on-Don
People may be aware of Rostov thanks to their domestic football club's qualification in the Champions League in recent times.
Sitting on the banks of the River Don, the city is an up-and-coming city and fast becoming the hub of modern technology in Russia.
You'll see a noticeable difference between here and the likes of Saint Petersburg, with the port city having plenty of modern architecture.
That is paired with stunning buildings, centuries old, and you really can still get a taste of the real Russia here.
Rostov will host a number of group games as well as a Round of 16 game which could see England play there if they qualify as Group G winners.