All Aboard: The benefits of travelling by ferry this summer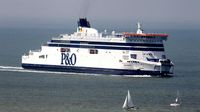 The summer season is upon us and after a hard year's slog holiday makers across the country will be counting down the days before they head abroad.
Going away is all about excitement and embracing new experiences but, perhaps more importantly, relaxation.
Whilst the majority of us envisage a tranquil and hassle-free experience the reality of airport transfers, flight delays, accommodation mix ups and lost luggage can soon hit hard and spoil the occasion.
Thankfully there are alternatives to hectic air travel, particularly if you're planning local European jaunts this year.
Step in the Ferry- where travel by sea is all about unwinding onboard, comfort, sight- seeing and of course kicking back and enjoy a few drinks with friends. In fact it's now becoming so popular that almost 2 million of us took a sea trip last year alone.
From roomy accommodation to delicious food, ferry travel offers the following benefits:
Breathing space
One of the biggest advantages of ferry travel is being granted the freedom to walk and explore your surroundings. On a large vessel you will have decks to explore and of course plenty of seating space so you sit back and take in some stunning sea views.
Bye-Bye Queues
Unlike travelling by plane, travelling by ferry typically involves zero check-in queues whatsoever. Say goodbye to long wait times and avoid the inevitable stress involved with standing in long lines- especially if the family are with you too!
Save money
The sometimes extortionate cost of air travel is well documented but did you know you could save yourself a bucket (and spade) load of money if you consider sea travel.
Reputable booking sites like ferryu.com work hard to deliver the cheapest deals on a number of popular routes, including Newcastle to Amsterdam, so it's worth searching around online to get the best deals and bagging yourself a bargain.
On a comparative short-haul flight to Europe from the UK, ferry travel could save you hundreds of pounds, location dependent of course.
No need for car hire
No need to worry about damaging the lease car because ferry passengers are able to bring along their own vehicle to their intended destination, completely eliminating the need to hire a new vehicle and making your trip far more convenient.
Scrumptious food
From delicious buffets to fine dining options, there's a plate for all tastes on board a ferry- and for all budgets too. With plenty of bars to choose from, as well cafes, restaurants and shops there's lots to enjoy and we've not even touched on the cocktail options…