Flexible living in York - Three is the magic number!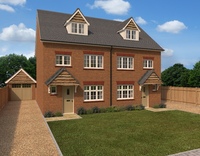 Why settle for two floors in your brand new home, when you could have three, including a luxury master suite at the top of the house?
That's the attraction of a Grantham or Kenilworth townhouse from Redrow's Arts & Crafts inspired Heritage Collection at The Granary, in York.
Or, if you prefer the Georgian inspired styling of Redrow's Regent Collection, check out the Wellington townhouse at neighbouring development Lancaster Mews.
"All three of these house styles offer three bedrooms and a family bathroom on the first floor, but go up another level – into what would normally be redundant floorspace – and there's a sumptuous master bedroom with en-suite shower room," says Patsy Aicken, sales director for Redrow Homes (Yorkshire).
"It's a lovely, calm and relaxing space for parents – away from the hustle and bustle of the rest of the house; alternatively it can make a great guest suite or even a private space for older children still living at home."
Meanwhile there's a kitchen / dining room on the ground floor and a spacious lounge overlooking the back garden through patio doors. And if all the middle floor bedrooms aren't needed for sleeping, they can find alternative uses as a home office, TV room or children's playroom.
"Townhouse living was very fashionable in bygone eras, especially in towns and cities, but now it's bringing a new flexibility to family life in the 21st century," says Patsy. "It also brings with it some cost saving benefits as a four-bedroom townhouse is generally less expensive than a similar sized two-storey property that takes up more land."
Proving the point, the Kenilworth and Grantham at The Granary are currently available from £299,950 and £314,950 respectively; while the Wellington at Lancaster Mews is priced from £309,950.
The Government backed Help to Buy scheme means purchasers may be able to get an equity loan for up to 20% of the purchase price – interest free for five years – and so may only need a 5% deposit to secure their new home.
Among those who are already sold on three-storey living is Valeriia Taylor, who recently bought a Wellington from Redrow in Newton Kyme, North Yorkshire, with her husband and two-year-old daughter: "The best thing about living on three floors is having your own floor as a master bedroom with en-suite. To have an en-suite was one of the criteria we looked for when choosing a house, but having the whole floor to ourselves is a bonus."
And Rachel Lawrence, in Horsforth, West Yorkshire, who's enjoying the high life in a Kennilworth with her husband and their two young children: "One of the main reasons we chose the three-storey home was for the bedroom space. We couldn't have afforded a four-bedroom home across two floors because they were more expensive, but we got all the room we wanted by going up a level.
"Each child can have a bedroom of their own, which is what we always wanted, and we have got a much-needed study for when Steven and I – both high school teachers – need to get on with work, whether it's marking books or preparation. It's perfect."
York homebuyers who want to take advantage of three-storey living in a brand new home will also enjoy being within easy reach of the city centre while close to the amenities of the Clifton area, including the nearby Clifton Moor shopping park. And let's not forget that York was recently named THE best place to live in the UK by The Sunday Times.
Redrow's homes come with a high quality specification as standard, including a choice of stylish kitchens with top brand name integrated appliances. And residents get a rather unusual added extra at these two developments – free two years' membership and a £50 driving credit with Enterprise Car Club.
For further details of The Granary, log onto redrow.co.uk/thegranary.
For Lancaster Mews, visit redrow.co.uk/lancastermews.