Piaggio Porter range provides tailor made solutions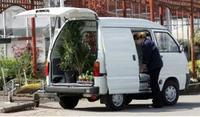 The extremely versatile range of Piaggio Porter light commercial vehicles is designed to meet the varied needs of a myriad of different businesses and provide customers with a fantastic combination of benefits. The Porter range boasts class leading agility with a tight turning circle and compact dimensions which ensure that even heavy or bulky goods can be delivered into the narrowest of locations, even those inaccessible to other vehicles.
What Van? magazine has once again named the Porter 'Microvan of the Year'. The Porter's manoeuvrability in city centres and secure handling on narrow rural lanes impressed judges, as did its practicality and versatility, particularly the easily accessible cargo area. What Van? Editor, Neil McIntee, described the Piaggio LTV Porter as "highly manoeuvrable and well nigh ideal for city centre delivery work".
The Porter Panel Van offers customers an unbeatable combination of compact exterior dimensions and a 560kg payload, along with outstanding interior volume. The low level load area can hold up to 3 cubic metres of cargo and has unrivalled access through a full depth sliding door on each side plus a top-hinged full width rear tailgate. The Panel Van's versatility can be further enhanced through the MPV version which uses the same unitary steel body shell but has two large additional windows on each side for all round visibility. Twin glass tilting sunroofs are provided to further enhance driving comfort, and this vehicle can be supplied in two, four or six seat variants.
The Porter Pick-up boasts an extremely sturdy frame chassis, combined with up-rated suspension which increases its payload to 680kg. The capacious load deck is supplied with sturdy steel drop sides and tailboard for easy access in all locations. For safety, all the drop sides are fitted with recessed release handles.
The Porter Tipper provides a longer and wider load area than the Pick-up which, through a hydraulically operated under floor ram, can be tilted up to 45 degrees. Despite this additional specification, the payload is still maintained at 680kg. The Porter Tipper is the only factory built tipper available in this sector and, with the option of standard 300mm high steel or 400mm high alloy drop sides, along with a dual hinged tailboard, offers incredible versatility and unbeatable value for money.
The Porter Big Deck is the big load carrier of the range and its high capacity makes it possible to load the very bulkiest of materials: even goods loaded onto pallets fit easily on the roomy deck. The load floor is 20% bigger than the Pick-up which makes it 345mm longer and 70mm wider than its sister vehicle. Both alloy and steel sides are available and the maximum payload is increased to 685kg.
Should one of these extremely versatile variants not meet your requirements, Piaggio offers a broad range of special equipment options including a mobile workshop, refrigerated body, waste management Tipper, and aerial access platform (cherry picker) and a mobile maintenance unit complete with power jet wash. For customers with very specific requirements Piaggio offers the Porter Chassis as a solid platform on which to base custom-built vehicles.
The complete Porter range is powered by a Japanese derived 1.3 litre, 16 valve petrol engine, with multi-point fuel injection, and is the only vehicle available in its class which conforms to the stringent Euro IV emission regulations. The range will be further expanded later in the year by the addition of a zero emissions electric version, along with the option of 4x4 on the petrol variants.