Rock around the Christmas tree with Piaggio Porter 4x4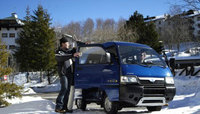 Whether you are tackling rocky terrain or travelling down a muddy track to collect your Christmas tree, Piaggio Porter 4x4 will deliver this Christmas.
With winter fast approaching, look no further than the versatile Piaggio Porter 4x4 range of light commercial vehicles from as little as £7,795. Available in a variety of models to suit a myriad of business needs, the Piaggio Porter 4x4 range is ideal for harsh winter conditions.
The Porter 4x4 is the ultimate choice for working in difficult terrains and is highly compact which makes it incredibly easy to manoeuvre in restricted areas where access may be limited for larger vehicles. Travelling to rural areas will prove easy in the practical Porter 4x4 as its compact dimensions work in its favour, meaning it can travel down narrow, windy lanes without difficulty.
Its permanent four-wheel drive system with electronic locking centre differential makes the Porter 4x4 ideal for working in tough environments and means it can adapt accordingly in rough, off-road conditions. With a fully loaded surmountable gradient of 28° and a maximum lateral incline of 45°, the Porter 4x4 is designed to work through challenging terrain as well as battling all weather conditions. The Porter 4x4 has enhanced traction controlled by its advanced all-wheel drive system assisting it through potential hazards such as icy slopes and muddy fields with ease.
Available in the same variants as the two-wheel drive range, the Porter 4x4 provides choice and practicality therefore meeting the needs of a host of business users. From Panel Van, MPV, Pick Up, Big Deck, Tipper and Chassis Cab, to which virtually anything can be added, there is a vehicle to meet the requirements of endless light commercial vehicle operators.
The Porter 4x4 range has remarkable payload capacities for such a small vehicle, ranging from 560kg for the Panel Van rising to 680kg for the Pick Up and Tipper and again to 685kg for the Big Deck version, which boasts a useful larger load area. The Panel Van has an impressive load volume of 3 cubic metres, matching many of its competitors.
With the Porter 4x4 range priced from only £7,795 and the two-wheel drive range from only £6,295, it's easy to see why the What Van? judges are continually impressed by the Piaggio Porter range and have awarded the Porter with the What Van? microvan of the year award for four consecutive years.