Piaggio provides Britain's best value light commercial vehicles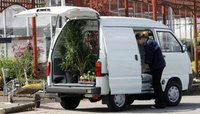 With the news still full of financial doom and gloom, it is refreshing to hear that Piaggio Commercial Vehicles continue to provide Britain's best value light commercial vehicles with the award winning Piaggio Porter range. Whilst consumers are looking for savings in the current economic climate, Piaggio are offering the affordable Porter range of vehicles from as little as £6,295.
The versatile Porter range is available in petrol in both 2 wheel-drive and 4 wheel-drive, along with the zero emission electric version. Each range is available in 6 different body types and is therefore able to suit a myriad of business needs; Panel Van, MPV, Pick Up, Big Deck, Tipper and Chassis Cab, to which almost anything can be added.
The Porter vehicles may appear small but the Panel Van has an impressive load volume of 3 cubic metres, which matches or even beats most of its competitors but has the advantage of a slightly more appealing price tag along with increased accessibility with twin side loading doors and full height rear tailgate as standard. With payload capacities ranging from 560kg to 685kg across the petrol range, the Porter can carry a full load and still have great manoeuvrability due to its light weight and compact build. With the Panel Van and Pick Up priced at only £6,495, the Porter range provides great value without compromise. The Tipper version is available for £6,995 and is particularly impressive as it is the only factory built tipper within its sector. The Big Deck, which offers a slightly better load area than the Pick Up, is available for £6,695.
Porter 4x4 is the ultimate choice for delivering to rural areas and travelling in restricted spaces as the enhanced traction of the Porter 4x4 is controlled by its permanent all-wheel drive system. With the 4x4 models available for just an additional £1,500 on top of 2 wheel-drive prices, the 4x4 range represents fantastic value for money as it boasts all the benefits of a microvan but is also able to manoeuvre easily in rough terrain.
The zero emission Porter electric range is not only environmentally friendly but provides a money saving solution, particularly ideal for businesses operating small fleets of vehicles in busy, congested cities. The Porter electric is conveniently exempt from congestion charging and road fund licence resulting in minimal running costs. With a range of approximately 80 miles between charges, the Porter electric is ideal for city use, where you are likely to become situated in heavy traffic for periods of time, as no power is used when the vehicle is stationary. The Porter electric can either be charged through a 13 amp socket which takes around 8 hours or by 3 phase supply for a faster charge which takes just 2 hours.
Winners of the What Van? Best Microvan award for four consecutive years now, the Porter range continues to impress the What Van? judges, as it is ideal for small businesses and provides a great value, practical solution for light commercial vehicle operators.