4 x What Van? success for the Piaggio Porter LTV range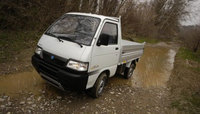 Proving the old adage that 'great things come in small packages', the Piaggio Porter light commercial vehicle range can now boast 4 x What Van? success with the recent news that Porter has once again been awarded the title What Van? Best Microvan for the fourth successive year. Winners in 2004, 2005 and 2006, and now in 2007, Piaggio Porter has firmly established its status as the class-leading light commercial choice for independent businesses, small fleets and local government end-users.
The Porter microvan line-up has consistently been lauded by the What Van? judges for the versatility and convenience offered by its comprehensive range, comprising primarily of 4 base model variants; the Panel Van, MPV, Pick Up and Tipper. The versatility of the range is further enhanced by the Big Deck, Top Deck and Tipper SL alternatives to the standard Pick Up and Tipper bodies. There is even a Chassis Cab version available to which any number of different special equipment options may be fitted, such as cherry pickers, waste disposal units and even refrigerated boxes.
Just in case this line up doesn't provide enough choice for the discerning commercial vehicle customer, Piaggio have recently introduced to the UK a 4x4 companion to the 4x2 wheel drive standard 1.3 16v petrol engine line-up. Any one of the model variants in the range can be supplied, factory-fitted, with a permanent four wheel drive with electronic locking centre differential, for just an additional £1500 on the standard price.
Combining compact dimensions with improved traction from its advanced all-wheel drive system, the Piaggio Porter 4x4 becomes a natural commercial vehicle choice for anyone working in rugged, outlying areas or isolated, rural communities where access may be more difficult in a vehicle less well-equipped for rough or awkward terrain.
In fact, Porter 4x4 is bound to impress with a plucky character that belies its small truck appearance. With a maximum lateral incline of 45º and a fully loaded break over angle of 28º, the Porter 4x4 really is tougher than it looks, with the ability to succeed in situations where other small trucks would undoubtedly fail.
Porter Electric is another relatively new addition to the Piaggio Porter engine-type line up and offers a 96v power pack with a range of approximately 70 miles, available in all the model variants. Boasting zero emissions, zero Road Fund Licence and zero Congestion Charge, Porter Electric provides an effective money-saving solution for small fleet managers looking to keep daily vehicle running costs to a minimum.
For example, a fleet manager operating five electric Porters in Central London for 253 week days per year can expect to save £875 in Road Fund Licence and a considerable £10,120 in the Congestion Charge fees normally attracted by CO² emitting vehicles. When compared to conventionally-fuelled vehicles of a similar load capacity on an average 35-mile route per vehicle per day, the Porter Electric's energy consumption rate of 1.6p per mile reduces a combined fuel cost of £4983.93 per year to a minimal £708.40 in recharge costs when using Porter Electric. The electric vehicle option would therefore represent a total yearly saving to this fleet manager in fuel and ancillary charges of £15,270 per year.
With such quantifiable benefits on offer to end-users of the Porter range, Tim Slaughter, Managing Director of Piaggio LTV, is proud to acknowledge the versatile small truck's growing success, 'With this fabulous line up of standard petrol, 4x4 and electric-powered vehicles, Piaggio Porter LTV offers a convenient solution to virtually every conceivable business need. Whatever the weather, whatever the location, whatever the load, the Piaggio Porter range really can provide a van for all seasons.'