Piaggio provides cool green solution to urban food deliveries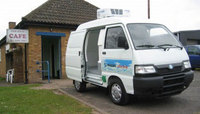 Piaggio and Cold Logic have joined forces to provide a carbon free refrigerated solution to urban food deliveries. The Porter Electric combined with the expertise of Cold Logic offers the perfect solution to getting about town and delivering fresh food to the customer's requirements.
The Porter Electric is ideal for this use with very low running costs and outstanding versatility. The long-life Lead-Gel batteries used in the Porter Electric are maintenance-free and produce zero emissions, which means that the vehicle is conveniently exempt from Vehicle Excise Duty as well as Congestion Charging. Opting for the Porter Electric could result in a huge saving for businesses that operate vehicles in large towns, or a city such as London.
The vehicle range is approximately 80 miles between charges, which is just right for making those essential deliveries. Charging the Porter Electric Chiller could not be easier as two options are available: the 8 hour standard recharge through a 13 amp socket or the 2 hour fast charge using a 3-phase supply.
The Porter Electric Chiller is supplied in left-hand drive which ensures safety for the driver of the vehicle on busy roads as they will not have to step out into the traffic. The vehicle is remarkably compact and has impressive manoeuvrability meaning that deliveries to the narrowest of locations are not compromised. The Porter Electric Chiller has twin side loading doors and full height opening rear tailgate therefore giving loading and unloading access from all sides of the vehicle.
Cold Logic complete the package with the help of Hubbard Products Ltd who supply the refrigeration unit and GRP Group who carry out the conversion of the Porter Electric.
Hubbard Products Ltd is one of the UK's leading suppliers of refrigeration units. The small, light units are also designed and manufactured by Hubbard Products and they have earned a strong reputation. The refrigeration unit itself is powered by its own battery supply but is conveniently charged at the same time as the Porter Electric Chiller. The unit will easily maintain the load area between zero and 5 degrees throughout an average working day.
GRP Group carry out the refrigeration conversion of the Porter Electric Chiller. They have a wealth of experience and are the number one choice for completing the conversion as the UK market leader.
The end result is a green, low maintenance vehicle with an impressive, high quality conversion perfect for making deliveries in busy, urban areas.
To see the Porter Electric Chiller and to find out more about all the vehicles in the diverse Porter range, why not visit Piaggio at stand 12-220 at the Commercial Show from April 15th to 17th.