The warning signs that you should be considering a house move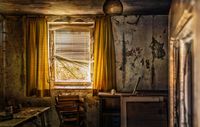 Between the costs of putting down a deposit, paying for the cleaners to make the house spic and span and also getting all your utilities and council tax sorted, should your home not be as good as you originally thought it was, you may simply want to stay there out of convenience, especially if your home is near your work or convenient for a trip to town. However, if a serious problem does emerge that could cause a dangerous situation, you should not remain in the residence and should bring it up with your landlord as quickly as possible. Here are some warning signs that will make you want to look up a house-move as fast as you can should you encounter them.
Look into the House's History
Before you even think of moving in, be sure to ask about the house's history. You do not know what sort of builder has been in your house to fix it up. Always ask for the details of the builders that worked on the house or why the residents moved on. This means you can get an inkling of any poorly finished renovations, problematic dry wall or cracks in the resident, mould problems or faulty plumbing that may make your daily living uncomfortable.
Plumbing
To have a fully functional house, one of the most essential rooms is the bathroom. How can you go to work in the morning without a quick shower or a trip to the toilet? The problems of a broken bathroom are obvious to spot when they are encountered. Make sure to keep an eye out for water staining on the floor and walls, sagging floor tiles and even mould upon the ceiling, wall and even on the shower itself.
You may even begin to see cracks in your walls or tiling if your plumbing has not been completed correctly. Be warned that these can be costly to repair and may leave you without any hot water for your bath or shower. This can be a sure sign that you cannot remain in your house and that you get ready to book your moving van, from the Man and Van, to get out of that house.
Electrics
Has your landlord told you that you are due to have some upgrades in your house? Or maybe there has been that single bulb that has always been faulty, but your landlord has promised to look into in the future. If you have accepted these electrics based on a snap decision to move into your house, some potential house buyers or renters shockingly taking around 8 minutes to half an hour to make the decision, you may want to slow down and consider whether or not your landlord will actually deliver on this promise.
Not only can faulty electrics be a terrible fire hazards, but sometimes builders will actually take out the whole wiring system from the electrics from the wall in order to fit in the new bulb. If you do not want your house to look like a building site, it may be best to move whilst you still can.