The ultimate guide for new business owners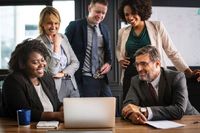 Opening a new business can be the start of an exciting adventure. Of course, there are always going to be teething problems when you are getting used to the hustle and bustle of work life, but if you have dreams of becoming a top entrepreneur then you need to think big. Here are some ideas to get you started.
What's your plan?
Before you try to figure out how to buy a workplace or hire any staff, the first thing you need to do is consider what your marketing plan is going to be. Clearly you have thought of a good brand, product or offer a fantastic service that you think will take your local community by storm. Every good business idea needs to have a marketing plan to ensure that it can be seen and endorsed by the correct people to the public. Have you thought of your own marketing plan?
Who's going to help you?
It's important to be honest with yourself when you open your business. After all, if you have not had the experience before when it comes to selling a product, you may not know where to start. If you do not have the guidance of a friend or relation who has already set up their own business, then why not look up success stories or advice from successful entrepreneurs. Their experience can keep your business flowing in the right direction and you can avoid making similar mistakes to what they did at the start of their business venture.
What tools will you need?
Consider what area of business you are going into. Will you be requiring any specific items to help you with your services? For instance, if you are going into the beauty business and you want to open a professional salon then you may require appropriate hair styling devices, heated lamps, scissors or manicuring kits, as well as the appropriate dyes and acrylic materials to do more detailed designs.
Will you get Insurance?
Insurance can be expensive, especially if you are buying several versions of it, but is it essential if you want to keep your business running smoothly. A company like Salon Gold, can help you find the right insurance for your business. For example, it is required by UK that you must have Employer's Liability Insurance to ensure that your business is protected against any accident claims. But you should also consider the following insurances to make sure don't have any nasty financial surprises in the future:
- Public Liability Insurance
- Property Insurance
- Product Liability Insurance
- Vehicle Insurance
- Business Interruption insurance
- Worker's Compensation Insurance
Where will your business be located?
You want your business to be in an area that is commercialised but also accessible to the general public either by car, foot or bus. Location is essential if you want people to always have access to your store. After all, this is the best form of advertising!
Hiring New staff
Now that you have a store and a marketing plan, you need to consider who you want to hire for your staff. Make sure to carefully read their CV before you hire them. Whilst they do not need full experience, they need to be able to handle your work rota and any challenges that customers may throw their way. Always make sure that you give your staff training before they interact with any customers.