New Renault Trafic and Master ranges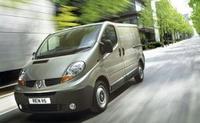 With the launch of several new and revised competitors in recent months, Europe's number one van brand has revised both of its large vans, Trafic and Master. Among the changes to both products are the refreshed interiors and exterior styling, new optional equipment, plus a new range of Euro 4 engines ranging in power from 90hp to 150hp.
Strong, expressive design
The New Trafic range has a bold, modern and dynamic design. The re-designed front features one-piece headlamp units with built-in indicators and a new radiator grille expressing the Renault visual identity. New lamp units at the rear of New Trafic enhance the vehicle's appeal, and a new footplate makes for added practicality. The Renault name appears on the rear of New Trafic and New Master, as on the rears of the passenger car range.
New Master also features a new, more robust radiator grille design making a clearer statement of membership to the Renault vehicle range. The new bumper unit, with a 10% larger air inlet, to meet Euro 4 standards, can accommodate factory-fit foglamps.
The changes are not just skin deep, as in line with the company's objectives outlined in Renault Commitment 2009, build quality also takes a major step forward too, with careful attention to fit and finish.
Significant improvements have been made in cabin quality for New Trafic and New Master, both of which also feature new upholstery and interior finish. In addition, there are new stowage facilities on New Master: two overhead parcel shelves with 5-litre capacity for notepads, clipboard, etc. and a two-litre cubby on the centre gearshift console.
New Trafic
New Renault Trafic, built primarily in Britain at the IBC plant in Luton, accounted for nearly 30,000 production units in 2005 (high roof versions are built at Alliance partner, Nissan's factory in Barcelona).
New Trafic will be available in a choice of two wheelbases (short and long – 3098mm and 3498mm), two roof heights (short and high, 1.96m and 2.50m) and three body types: panel van, commercial passenger vehicle (Trafic 9 Seat) and platform cab.
The best-selling version, SL (short wheelbase, low roof), has a load volume of 5m³, with a load length of 2.41m and an interior height of 1.38m. The long wheelbase version has a load volume of 5.94m³ and 40cm additional length. The high roof versions have 7m³ and 8m³ capacities and standing-room interior height of 1.91m.
The six-seat Trafic Crew Van will also be available, in both short and long wheelbase low roof versions, with a load area of up to 4m³.
Engines
Arguably the most important revisions to the New Trafic and Master ranges are its powerplants.
For New Trafic, the introduction of Euro 4 standards brings two versions of the new 2.0 dCi (M9R) engine, developed jointly under the Renault-Nissan Alliance – 90hp and 115hp. Both new engines come with a six-speed manual gearbox. In addition, the 115hp version will shortly be released with a new six-speed robotised 'Quickshift6' transmission. Quickshift6 versions all return over 5% greater fuel efficiency than their manual equivalents. At the same time, the 2.5 dCi engine gets a power upgrade from 135hp to 150hp and a particulate filter. This unit is also available with a six-speed manual gearbox or Quickshift6. The 2.0 16V petrol version (120hp) also meets Euro 4 standards.
The 2.0 dCi (M9R) engine on New Trafic is more powerful, responsive and fuel-efficient than the outgoing 1.9 dCi engine, featuring all the latest diesel engine technologies, including piezo-electric injectors, 1600-bar common rail, fixed-geometry turbocharger and new-generation combustion chamber.
It comes in two power versions, both offering excellent response, driveability and fuel economy:
90hp, up from 80hp. Maximum power of 90hp is reached at an engine speed of 3,500rpm, and maximum torque of 240Nm from 1,600rpm. This engine comes with the new PF6 six-speed manual gearbox
115hp, up from 100hp. Maximum power of 115hp is reached at an engine speed of 3,500rpm, and maximum torque of 290Nm from 1,600rpm. This engine comes with the new PF6 six-speed manual gearbox, or (from Q2 2007) with the PA0 six-speed Quickshift6 robotised transmission which offers fuel savings of more than 5% compared to its manual equivalent
In either version, the 2.0 dCi offers excellent response throughout its operating range, from low engine speeds up to the maximum of 4,000rpm. 90% of maximum torque is available from 1,500rpm up to 3,250rpm. These characteristics ensure power, comfort and safety.
For excellent efficiency, the 2.0 dCi engine is fitted with a Bosch piezo-electric injection system, which improves fuel injection speed, as seen on higher end Laguna and Espace models. Another new feature is valve control with roller cam followers and hydraulic stops which reduces friction and thus lowers fuel consumption.
With cabin noise a key design issue, the new engine implements various vibration-damping features, such as an aluminium bedplate, a long cast-iron crankcase skirt, and specially designed oil sump and timing cover. The engine also uses a chain-driven timing gear, for enhanced reliability and durability without compromising acoustic performance.
Joining the two 2.0 dCi engines in the New Trafic range is a new, top-of-the-range 2.5 dCi 150 with FAP (particulate filter). This engine also comes in 100hp and 120hp guise on New Master. The 2.5 dCi is derived from the 16-valve 2.2 dCi, with common-rail direct injection, 16-valve cylinder head, and tubular twin overhead camshafts and roller cam followers.
With the transition to Euro 4, this powerful version develops 150hp at 3,500rpm, with maximum torque of 320Nm at 1,500rpm. On New Master, this unit replaces the 136hp 3.0 dCi and addresses a clientele seeking a powerful and responsive engine with low fuel consumption.
Also on Master, the mid-range 120hp version is more flexible than its predecessor, with maximum torque of 300Nm, up from 290Nm. The 100hp version meanwhile offers an excellent trade-off between low running costs and respectable performance, with low fuel consumption.
All of these new diesel engines are Euro 4 emissions compliant, as is the new 2.0 16V petrol engine which has already proven its worth on several Renault models (Scénic, Laguna and Espace). In New Trafic, it develops 120hp at 4,750rpm and maximum torque of 190Nm at 3,750rpm. The upgrade to Euro 4 standards involves precious-metal enhancement to the catalytic converter.
Renault continues to see strong demand for Euro 3 products, so to meet this need in the coming months, it will be offering a single version for its Trafic customers, SL27dCi 100 Euro 3.
In keeping with the other revisions to New Trafic and New Master, both ranges also receive equipment upgrades, with comfort and safety features offering customers further enhancements in usability.
Equipment & Options
Equipment levels are even more impressive than on the current versions of Trafic and Master.
To make life even easier on board and to reduce the strain on van drivers, among the options on both New Trafic and Master are automatic wipers with rain sensors and automatic headlights with light sensors. In addition, safety and security are always at the top of Renault's agenda, so with these in mind, "See Me Home" headlights, three-button key with selective area opening (ideal for opening either load or cab areas without the concerns of opportunistic thieves) and R.A.I.D. (Renault Anti-Intruder Device), which automatically locks all of the vehicle's doors once it exceeds five miles per hour, are all available.
Standard specification on New Trafic includes: 30W single-CD RDS radio with fingertip remote control, ABS with EBD (electronic brake distribution), remote central locking with deadlocking and insurance approved (category 1) alarm and immobiliser.
New options available on New Trafic are:
Emergency Brake Assist
Passenger airbag de-activation
Rear parking sensors
Second battery rack
Several common options are also available on both New Trafic and New Master:
Additional anchorage points
Intelligent wiping system
Selective area opening with a three-button key
Third factory key (particularly useful for fleet customers)
In keeping with the freshness and modernity of the revised Trafic range, two new colours will also be available, Storm Blue and Topaz.
Master
Like its smaller brother, there will be a myriad of New Master versions. There will be a choice of three wheelbases (short, medium and long – 3078mm, 3578mm and 4078mm), three roof heights (short, medium and high, 2.25m, 2.48m and 2.72m) and three body types: panel van, commercial passenger vehicle (Master 6, 9 and 16 Seat) and open transport (platform, chassis and double chassis cab). The New Master load volume ranges from 8m³ to 20m³.
Engines
The new 2.5 dCi engine is available in New Master with three power outputs: 100hp, 120hp and 150hp. The mid-range 120hp engine gains 10Nm in maximum torque and a particulate filter appears on the dCi 150 engine. All three 2.5 dCi engines are available with a six-speed manual gearbox or Quickshift6.
Equipment & Options
The equipment levels on Master are just as impressive as its smaller sibling, with standard features including 30W CD RDS radio with fingertip remote control, ABS with EBD, full steel bulkhead (excluding passenger versions), Thatcham category 1 alarm and trip computer.
Additional new optional equipment on New Master includes factory fit fog lamps and adaptive ESP (electronic stability programme), specially designed for light commercial vehicles, with a load sensing unit that adjusts brake power to payload, plus factory-fit foglamps and automatic daytime lights.
New Master also benefits from the new Topaz metallic paint finish.
Renault Commercial Passenger Vehicles range – New Trafic & Master
The recently launched CPV (Commercial Passenger Vehicle) range, which encompasses the Trafic 9 Seat and Master 6, 9 and 16 Seat products, will be expanded considerably with the latest phase of Trafic and Master, seeing the number of variants rise from 20 to 46.
The Trafic 9 Seat range, will boast 20 versions, using two wheelbases and two trim levels, plus the four engines seen elsewhere in the Trafic range: 2.0 dCi 90, 2.0 dCi 115, 2.5 dCi 150 and 2.0 16V 120 petrol. Meanwhile, the Master element of the CPV range, incorporating the 6, 9 and 16 Seat models, will feature 26 models, featuring two wheelbases, two roof heights and the same three core 2.5 dCi engines as seen across the rest of the Master range: 100, 120 and 150hp.Plus, for those seeking a vehicle to accommodate their leisure pursuits to an even greater extent than the current Commercial Vehicle range, Renault will be launching a motorhome product later in 2006, based on New Master.
Body conversions
Completing the line-up of New Trafic and New Master are the bodies for conversion – in bare chassis, chassis-cab (single and double) and platform cab versions. These form the basis for a host of body conversions to address various applications, including ambulances, refrigerated transport, motorhomes, mobile workshops and disabled passenger transport.
Coachbuilder conversions account for 30% of Trafic and 40% of Master international sales. Renault implements a special product approval process to validate design and manufacture of the required body conversion for the specified vehicle, thus ensuring optimum quality and reliability. The Renault product approval label, 'Accord Produit' covers all technical and commercial aspects (aftersales, warranty, etc.).
Reassuring ride and handling
New Trafic LCV is comparable to an MPV (multi-purpose vehicle) in steering precision and suspension comfort, thanks to a front suspension technology derived from MPV developments, featuring MacPherson-type suspension with anti-roll bar with articulated mounting to the spring/shock absorber unit.
At the rear, the torsion beam suspension with trailing arms and Panhard rod gives excellent acoustic performance (owing to efficient filtering of the vibrations responsible for road noise) and dynamic response comparable to that of the best MPVs on the market. To minimize variations in vehicle attitude and roadholding at different loads, shock absorber calibration adjusts automatically to vehicle load, and suspension flexibility is also variable.
The New Master chassis accommodates heavier loads, with a double-delta front suspension system with upper swingarm, and wide track for precise steering and roadholding on any type of road surface in any weather. A front suspension system with independent wheels ensures steering efficacy and suspension comfort at all load levels.
Pricing – New Trafic, Master and Commercial Passenger Vehicle ranges
Renault vans have always been competitively priced, and even with the advent of Euro 4 engines, the new ranges are no exception.
Prices for the New Trafic vans range from £13,950 for the SL27 dCi90 panel van to £20,100 for the Crew Van + LL29 dCi150 Quickshift6 FAP. The New Master range is priced from £16,450 for the SL28 dCi100 to £24,900 for the Box Van 20m³ LH35 dCi 150 FAP. Lastly, Renault's recently introduced Commercial Passenger Vehicle (CPV) range starts with the Trafic 9 Seat SL27 dCi90 from £15,954 to £27,600 for the Master 16 Seat LM35 dCi150 Quickshift6 FAP.
Low running costs
To address a customer base that is extremely sensitive to running costs, New Trafic and New Master were designed with fuel economy, reliability and durability in mind. Fuel consumption is very low, and service intervals long (18,000 miles for M9R and G9U, and up to the same mileage for the G9U with particulate filter). Air and fuel filters are changed every 60,000 miles, and the accessories belt every 90,000 miles or every year.