Renault foresees rising demand for Euro 3 vans in months ahead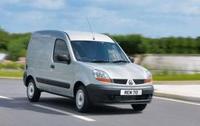 The deadline for light commercial vehicle Euro 4 compliance is fast approaching, with Renault expecting a marked increase in demand for its Euro 3 vans in the UK in the next few months.
Although there are undoubted benefits associated with cleaner, more fuel efficient Euro 4 engines, many van owners are realising that Euro 3 vehicles still represent sound purchases, not least because of their immediate availability and lower list prices. As a result, many customers are expected to bring their fleet orders forward before the year end.
Renault is one of the few manufacturers to have anticipated this need in terms of both product and resource, so is now ideally placed to meet this demand from its UK customers.
Although the new Trafic and Master ranges have recently been launched with Euro 4 engines, Renault has stockpiled enough Euro 3 products to meet forecast demand and will also continue producing a Euro 3 version of its new Trafic van until mid-October. As outlined below, a new entry-level diesel Kangoo van using a Euro 3 engine is also now available.
Confirming the buying pattern which is expected to emerge in the months ahead, Renault UK's LCV Brand Manager, Louise O'Sullivan, commented, "While some of the larger fleet operators have obviously assessed the situation and realised the cost savings associated with running Euro 3 vehicles, some sectors of the market are only just seeing the light. Therefore we're trying to do as much as we can for our UK customers by urging any of them considering a purchase within the next few months to take advantage of this last opportunity to secure Kangoo, Trafic and Master Euro 3 models before product availability is exhausted."
New Renault Kangoo Van SL19 D 70 Euro 3
Ideally positioned to take advantage of the expected wave of Euro 3 orders is a new version of Kangoo Van – the best-selling compact van in Europe since 2001 – the SL19 D 70 Euro 3.
The Renault Kangoo Van range is already competitively priced, so with a basic price of £9,195 - £755 less than the next model up in the SL Euro 3 range - the newcomer is set to give its rivals even more cause for concern when they see that ABS and CD/radio are both fitted as standard.
The potential for the latest addition to the Kangoo Van range to entice buyers away from other compact vans is immediately apparent when you compare it to three of its rivals.
The Ford Transit Connect looks particularly expensive by comparison, the 1.8 TDdi swb version costing £10,025 once ABS is added - £830 more than the Kangoo. A CD-radio is not even available as an option. The Kangoo Van's two direct French rivals fare only marginally better. The Citroën Berlingo 600D X 1.9D for example, costs £50 more at £9,245, yet neither ABS or CD/radio are available as options. Its sister vehicle, the Peugeot Partner 600 L 1.9d, costs £450 more than the Kangoo Van at £9,645 once these two items of equipment have been factored into the equation.
The new Kangoo Van model offers a 1.9-litre diesel engine, with maximum power output of 65hp at 4500rpm and 120Nm torque at 2250rpm. As with the other Euro 3 models in the Kangoo Van line-up, service intervals are every 9,000 miles or two years.
The Kangoo Van SL19 D 70 Euro 3 is available to order now, priced at £9,195 excluding VAT and on the road charges. It also qualifies for four years zero per cent finance. For further information, see www.renaultvans.co.uk or call 0800 52 51 50.
Renault says it's time for standard-fit ABS on all UK vans
While the issue of Euro 3 and 4 engines looks likely to remain at the top of the agenda in the light commercial vehicle industry for the foreseeable future, Renault still has not lost sight of another key issue affecting drivers each day – safety.
Every Renault, including the newest addition to the Kangoo Van range, has the potentially life-saving anti-lock brake system (ABS) fitted as standard. Yet in an age where corporate responsibility is coming under ever-increasing scrutiny and the Government's 'Duty of Care' legislation states that a vehicle can be classified as a place of work, it may come as a surprise to many to see how conspicuous in its absence ABS is in other vans sold in the UK each year.
While employers and managers using Renault vans in their businesses can sleep soundly at night, safe in the knowledge that the risks to their drivers and other road users are reduced in the event of an emergency braking situation thanks to ABS, it's alarming to see how many brands fail to offer it, let alone fit it as standard. After all, it's been around on cars for nearly 40 years and surely represents a small cost in relation to the number of lives it could potentially save each year with LCV drivers clocking up around 40 billion miles** each year in the UK.
The case for the prosecution makes for compelling reading, with several other manufacturers appearing just as keen to cut corners as they are to profit from the lack of standard fit ABS by only offering it as a costly option in many cases.
First up is Ford. As the market leader, you would be forgiven for thinking that all of their vans would have ABS as standard. But you would be wrong. Not only is ABS not available on the Ford Ranger but more worryingly it's also a £300 option on the cheapest version of Transit Connect.
This alarming pattern is mirrored with PSA Group. Citroën, which, given its Euro NCAP crash test results for its cars, might lead you to believe it would have such an obvious safety device fitted as standard, would leave you with your faith in tatters. ABS is standard only on a few of its products, namely the C2, Dispatch Combi and the top-of-the-range Enterprise versions of Berlingo and Dispatch. Otherwise you'll be forking out up to £500 each time for every other van model they make. Their sister company do even worse by not fitting ABS to any Partner, Boxer, or Expert panel van as standard. If you wish to add it, again it could cost you up to £500.
Human error is the cause of over 80% of all fatal and injury road crashes each year*** so to help in reducing this, ABS is fitted as standard to all Renault vans in the UK, while EBD (electronic brake distribution) is also fitted to all Clio Van, Trafic and Master models to offer even greater protection.
The technology is just the start of it. Renault believes that the best accidents to have are those that never happen, so in addition to its pioneering safety R&D efforts, it also runs the international 'Safety For All' campaign each year. This campaign, which helped educate 1.2 million schoolchildren between the ages of seven and eleven about the importance of road safety in the 2004-5 school year has just been extended to 19 countries.