GSL chooses the 'master' of ambulances for its solus Renault fleet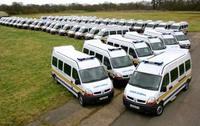 The largest single operator of non-emergency patient transport services to the NHS, Global Solutions Limited (GSL) has purchased 60 Renault Master vans for their solus Renault fleet of ambulances, taking the number of Renault vans to over 100.
As GSL currently provides more than 500,000 patient journeys each year helping to ensure non-emergency patients are able to attend hospital appointments, it was essential that the vehicles chosen for its fleet of vans are up to the providing the reliability and durability needed to offer such a useful service to the NHS, so the Renault Master was the natural choice.
GSL operates across the UK, South Africa and Australia with the healthcare operation transporting non-emergency patients to and from hospital appointments.
The Renault Master vans have been specifically converted into ambulances designed to meet the complete needs of patients enabling GSL to offer not only a safe and comfortable journey, but a punctual one too providing transportation for patients of all mobility levels, 24 hours, seven days a week.
In addition to features such as air conditioning, electric ramps and adjustable suspension, other safety and medical equipment is included to ensure that the ambulances meet the latest EU standards. GSL's Master ambulances also have the capacity to carry patients who need access to wheelchairs or stretchers.
Renault and Oughtred & Harrison (Facilities) Ltd have worked together for a number of years and co-operated fully with GSL to provide ambulances according to GSL's specific requirements.
John Bates, Director, Corporate Communications, GSL, said; "The Renault Master was perfectly suited for our needs, with its impressive interior space, low entry and exit points and its excellent suitability for the ambulance market.
"Renault's relationship with its converter, Oughtred & Harrison, was also a factor in our choice because we were able to work with both every step of the way on all aspects of the conversion including technical support. This is vital as we have strict criteria to ensure we offer our customers the highest standard of service.
"Renault's great whole life costs also helped in our decision".
GSL specialises in providing outsourced support services including healthcare, custodial, courts and police support, immigration, defence and Foreign Office, education, utilities and business process.