Renault is number one exhibit at the Decorative Antiques & Textiles Fair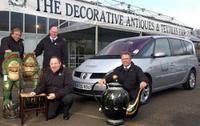 The Decorative Antiques and Textiles Fair is one of the leading and most important antiques fairs in the UK. Visitors are connoisseurs of quality and design. So what better way to travel to and from the fair than in the streamlined elegance of a Renault Grand Espace?
The Fair, with its high-quality, competitively-priced antiques attracts private buyers, antiques dealers and design professionals from all over the world. Exhibits are displayed to reflect how the individual pieces might look within a home. The atmosphere of the Fair is distinctive - stylish but approachable, elegant but relaxed. Just like that of the Renault Grand Espace!
Mrs Patricia Harvey, organiser of the Decorative Fairs, says "The courtesy shuttle service provided by Renault Espaces makes a huge difference to our customers, who find it a real help, particularly when they have bulky purchase to carry away."
Renault UK offers a complimentary car service between Sloane Square and the Marquee in luxurious and spacious Grand Espaces – lots of room for fair visitors and their substantial acquisitions!