Renault UK - CV Show 2007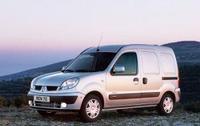 Following last year's successful show format, Renault UK will be underlining the depth and breadth of its van and commercial passenger vehicle range at this year's show with a total of 11 products on display, including three new vehicles making their UK debuts, Kangoo Van 'Venture' special edition, Trafic 'Generation' and Trafic Chiller Van. The new Renault F1 Team car, R27, will also appear as the ultimate crowd-pleaser for both young and old.
New Trafic 'Generation'
Renault's range of Trafic Commercial Passenger Vehicles is already proving a hit with a diverse range of buyers, so in line with the company's sales success with more leisure-oriented versions elsewhere in Europe, a new people carrier version, Trafic Generation is being shown as a UK concept at this year's show, ahead of a potential UK launch later this year.
The new Trafic Generation boasts a multi-purpose interior, which will no doubt prove appealing both to retail buyers seeking a cavernous and practical leisure vehicle for weekend trips, as well as corporate market customers requiring a versatile people and load carrying vehicle with an emphasis on quality and price.
Available in a short wheelbase, low roof body, the new model offers considerable interior flexibility with swivelling driver and front passenger seat, a three-seater rear bench seat and a table to make weekend getaways or overnight stays even easier, the rear bench can also be converted easily into a comfortable double bed with a luggage area below.
The Generation's seating layout can be configured with up to seven seats, as the rear five seats are all on rails and can be slid back and forth, or removed altogether. On board comfort is increased even further with several stowage spaces spread throughout the interior.
The Trafic Generation's equipment levels are as impressive as its interior versatility, but further details on the UK version's specification, engine line-up and pricing will be made available shortly should Renault launch it later this year.
Kangoo Van 'Venture'
Renault's ever-popular Kangoo Van range may have only recently been revised for 2007 but that hasn't stopped the company from launching one of its most affordable versions ever to tempt small business customers in particular, with the 'Venture' special edition priced at just £7,995 (excluding VAT and OTR charges).
Based on the SL17 dCi 70+, the new model is available to order now for business customers ahead of its first public appearance at the CV Show 2007, offering a saving of £2,855, plus an additional £1,060 worth of additional equipment, to make every day motoring more comfortable and user-friendly.
In addition to the price and equipment saving of £3,915, there's even better news for business users, who will receive a free TomTom One portable satellite navigation system, provided the vehicle is ordered by 30th June 2007 and registered before 30th September 2007 (subject to Renault UK terms and conditions). After this time, the model will revert to a basic price of £11,295.
The SL+ range which forms the basis for the new model, already offers a comprehensive equipment list in this highly competitive sector, including: 30W CD-RDS radio, ABS with EBD (Electronic Brake Distribution), electric windows (one-touch driver's side), intelligent wipers, remote central locking (three-button key for added convenience) and side loading door.
The new Venture special edition takes the specification tally even higher by bringing together some of the most popular range options in a single model, adding greater flexibility and practicality to one of the most popular compact vans in the segment, at an even more attractive price. These items offer £1,060 worth of extra equipment over a standard SL+ model, including air conditioning, folding passenger seat, metallic paint, swivelling bulkhead and unique Venture badging above the engine badge on the side rubbing strip.
Aside from its impressive specification, the Kangoo Van Venture still retains its workhorse roots, with a payload of 625kg, load capacity of 2.75m³ and a gutsy 1.5 dCi 68hp engine with 160Nm of torque available at 1,500 rpm.
Trafic Chiller Van
Renault already offers one of the most comprehensive conversion ranges in the market and is now looking to build on its current success by investigating the scope for a UK launch of the new Trafic Chiller Van. Making its debut at this year's CV Show, this new vehicle is being shown with a view to gauging customer reaction ahead of a potential launch for this product which is already offered in several other European countries.
Designed in partnership with Lamberet, Europe's leading constructor of insulated and refrigerated vehicles, should the product get the go-ahead, Renault would initially seek to offer a Class A refrigerated version with a high performance, strengthened insulation for fresh goods transportation.
The temperature controlled Trafic features insulated material in the doors, floor and ceiling, so that it can maintain a load area temperature between 0° and 12°C, even if the outside temperature exceeds 30°C. The insulation material used is polyurethane and is therefore completely recyclable.
The conversion also includes independent wiring, full steel bulkhead, 180° solid rear doors and an unglazed sliding left side door.
The refrigeration unit itself can be charged both on the road and from the mains. Among the other benefits of the system are that the base unit can have air conditioning, while for easier ownership, the unit has a 'Quick Release System' which can be fully removed for low repair and maintenance time as well as making it easier at time of resale. The evaporation and condenser unit has a life span of 30,000 hours, making it one of the most hardwearing units available. In terms of its design, the slimline refrigeration unit is just 11cm in height and is integrated virtually seamlessly into the Trafic's roofline.
As a factory conversion, the Trafic Chiller Van naturally benefits from the full manufacturer warranty.
Andy Cockeram – Manager, Fleet Sales
Mark Lovett has recently joined the GB operations of Renault's Alliance partner, Nissan, so taking up the helm and reporting to Keith Hawes, Renault UK's Director, Fleet and LCVs, is Andy Cockeram.
Formerly head of Renault UK's Franchising operation, Andy has moved to take up a new role as Manager, Fleet Sales, which will see him take responsibility for the management of Renault's fleet car and LCV sales team. Previously the role was shared between cars and vans, with the LCV Fleet Sales side headed up by Mark Lovett. Andy joined Renault in 1988 and built an impressive background in Commercial Operations, sales and Franchising during that time.
Renault vans – biodiesel
In December 2006, Renault launched its first biodiesel-compatible vehicles with the unveiling of Trafic 2.0 dCi B30 and Master 2.5 dCi B30 in France. These are the first expressions of Renault's commitment to biofuels, made by the company as part of its ambitious three-year growth plan, 'Renault Commitment 2009'. As part of this, all of its diesel engines sold worldwide by 2009 will be able to run on fuel blends containing 30% diester.
Renault Commitment 2009 also sets the goal of selling one million vehicles emitting less than 140 grams per kilometre of CO2 by 2008, of which a third must emit less than 120 grams per kilometre. In 2005, Renault sold 20% of all vehicles emitting less than 120 grams per kilometre.
Targeted principally at fleet customers seeking to reduce the CO2 emissions of their vehicles, Trafic is available with either 90hp or 115hp outputs from the 2.0 dCi B30 engine, while Master offers 100hp or 120hp from its 2.5 dCi B30 units. These engines are able to run on diesel or on a diesel/biodiesel mix with up to 30% biodiesel content.
Renault sees biofuels as one of the most efficient and economic ways of controlling CO2 emissions in the medium term, since it is easy to fit this technology on volume production models. "Well to wheel", they are much more efficient than conventional fuels. An engine running on 30% biodiesel emits up to 20% fewer CO2 emissions than on conventional diesel, depending on the biological source. Produced from vegetable oils or biomass, biofuels are also renewable and diversified energies that limit our dependence on fossil fuels.
Sales in the UK are still being considered for 2007, if Her Majesty's Government makes it an attractive purchase proposition and the availability of biofuels continues to expand.
Kangoo Van
The replacement for the current Kangoo Van is already under development and will be launched in 2008, however, in the meantime, Renault has facelifted Europe's best-selling compact van to maintain its ever-popular appeal.
On the outside, the only visual distinction between the current and new versions are the new crystal indicator casings, while under the bonnet, in light of the incoming Euro 4 engine regulations, the special edition SL Euro 3 versions will be discontinued, giving an initial choice of 12 SL16, SL17, SL19, SL17+ and SL19+ models. Both trim levels will offer a choice of 1.2 75hp or 1.6 95hp petrol engine, the latter only available as an automatic, while Renault's award-winning common-rail diesel engines are available in 1.5-litre guise, from 60hp to 85hp.
Standard specification for the entry-level SL versions includes new 'Oussine' grey and blue upholstery, remote central locking and R.A.I.D. (Renault Anti-Intruder Device), while SL+ versions add electric front windows with one-touch-driver's side, side loading door, Storage Pack (overhead parcel shelf and underseat tray) and three-button remote central locking (for selective door opening). Making the SL+ versions even better value is the addition of the Electric Pack – electric door mirrors and trip computer (worth £100) for free.
The option list for Kangoo Van is as extensive as the model range itself. New additions for 2007 are the availability of a driver-controlled speed limiter for £50 and Security Pack (incorporating lateral and passenger airbags) for £370. All prices excludes VAT.
Clio Campus Van
The new Clio Campus Van SL15dCi 70 receives a new exterior treatment, with revised front bumper design and a new tailgate with the number plate now moved to the restyled rear bumper. It also has a considerably reduced basic price at £8,485, a full £640 less than the previous version.
Aside from its tempting new price and contemporary design, the Clio Campus Van continues to offer drivers high levels of driver comfort, practicality, safety and security. The new model boasts a payload of 535kg, flat floor with a load volume of up to 0.95m3 and a load height of 635mm. It's powered by the Euro 4 compliant 1.5-litre dCi engine, already highly popular in other Renault models. With 65hp on tap, the common-rail diesel engine guarantees impressive fuel consumption of 64.2 mpg on the combined cycle, together with low carbon dioxide emissions of 115 grams per kilometre and maximum torque of 160Nm at 1,900rpm. The result is a clean, efficient and flexible engine, perfect for inner city driving which owners of this type of van commonly do.
The standard equipment list for new Clio Campus Van SL15dCi 70 sees the addition of a new multi-function trip computer on top of: ABS with Brake Assist and Electronic Brake Distribution, driver and passenger airbags, remote central door locking and R.A.I.D. (Renault's Anti-Intruder Device which automatically locks all vehicle doors after 5mph) – the ideal solution for protecting driver and goods from opportunistic thieves when sitting in traffic.