Renault Trafic triumphs at Professional Van and Light Truck Awards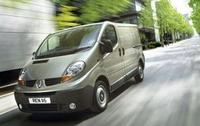 Renault's New Trafic has only been on sale for a matter of months and already it has collected its second magazine award. Picking up from where it left off at the What Van? 2006 Awards in November, Trafic has just scooped the Standard Panel Van award at the Professional Van and Light Truck Awards 2007, held recently during the CV Show at the NEC, Birmingham.
Given that 2006 was a year dominated by an influx of new Euro 4-compliant commercial vehicles, the task of picking category winners was made much more difficult than usual for the industry expert panel and makes New Trafic's latest win even more impressive.
Commenting on the rationale behind Trafic's victory, Professional Van and Light Truck magazine's Editor, John Fife, said, "Renault's growing reputation in customer service helped to clinch this year's award for a cross-badge operation which saw it up against stiff competition in this category. But the Trafic's compact size and new Euro-4 engines just pipped the competition."
After receiving the latest industry acknowledgement for the high-selling Trafic, Renault UK's LCV Brand Manager, Louise O'Sullivan, said, "We've already sold over 2,500 versions of New Trafic in under six months, so this latest award serves to underline its continued appeal to industry experts as well as our customers. We're particularly pleased that its range of economical, powerful and refined Euro 4 engines has helped it to victory in a highly competitive marketplace."