Renault enjoys success at Van Fleet World Honours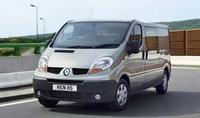 Renault enjoyed double success at the Van Fleet World Honours 2007 with its Trafic van proving it's still the LCV to beat after winning 'Best Medium Van' for the fifth consecutive year, and Renault's new dedicated fleet website – renaultfleet.co.uk – winning the Internet Award only a few months after its launch.
The celebrated awards, presented at an exclusive ceremony in London attended by VIPs from the Fleet industry, are presented to manufacturers who have achieved the highest level of excellence in their sector. The judging panel is made up of leading industry experts including Fleet World's editorial team, members of the leasing industry, fleet managers and representatives from residual values guides.
Keith Hawes, Director, Fleet & Commercial Vehicle Sales, Renault UK, commented; "It is testament to the enduring appeal of the Renault Trafic van that it has won this prestigious award for the fifth year in a row and is clearly still the van of choice for fleets. Trafic was revised in September of last year, and it remains just as modern and practical now as it did when it was first launched six years ago.
"I'm also delighted to see Renault's first-ever brand new dedicated fleet website honoured in its very first year of launch. renaultfleet.co.uk has been designed with the specific requirements of fleet managers in mind, so it is excellent to see it recognised by the industry for which it was created."
Best Medium Van – Renault Trafic
Renault's Trafic van has been recently revised combining a bold, modern and dynamic design with a high quality interior. The ever-popular LCV is flexible enough to suit most fleet requirements and its reliability, durability and competitive pricing ensures it stands out from the crowd. A comprehensive range of engines that are both frugal and powerful also keep Trafic at the top of Fleet Managers' lists.
Commenting on the award, Van Fleet World Editor John Kendall said: 'The Trafic went through one of the subtlest re-designs of last year. You would have to be something of a "Vanorak" to pick out the differences. But this is on the, "If it ain't broke don't fix it", principle. The original vans may be almost six years old, but the design still looks fresh and modern. There is a broad range of body styles offering body volumes in the 5.0 to 7.1 cubic metre range as well as chassis-cab models. Payloads of 1,000kg and 1,200kg help to give a wide variety of choice for fleet users.
'Inside, there is great attention to drivers' needs in the cab. Stowage is plentiful, the driving position is still arguably more car-like than any of its rivals and the subtle changes have left the excellent dashboard largely unchanged, retaining the ergonomic layout and great modern design. It is also a good van to drive with quiet engines and a fine balance of ride and handling either empty, or loaded to full gross weight. Drivers spending their working hours at the Trafic wheel have little to complain about.
'The Euro-IV engine range includes a new 2.0-litre common-rail diesel providing a useful power increase of its 1.9-litre predecessor with 90PS and 115PS. The revised 2.5-litre common-rail diesel now has 15PS more at 150PS. There's also a 120PS two-litre petrol engine,' added Mr Kendall.
Internet Award – renaultfleet.co.uk
Renault launched its first-ever dedicated fleet website, renaultfleet.co.uk, in January 2007 and it is award-winning just four months after its launch. The website has been created to specifically cater to the specialist needs of its fleet customers and make the life of a fleet manager much easier. It includes unique features not found on any other manufacturers' fleet website, such as fleet management software offered free of charge.
Renault UK conducted a survey of fleet operators of varying sizes to find out which online features would be of most use to them and what they would specifically like to see on a dedicated fleet site. As a direct result of those responses, Renault UK has incorporated many of these requirements into its new fleet website.
The renaultfleet.co.uk website is a comprehensive information point for fleet customers.
Commenting on the award, Van Fleet World Editor John Kendall said: 'Renault claimed an industry first with the launch of its dedicated fleet customer website, renaultfleet.co.uk in January this year. The launch followed a consultation process with fleet operators and three specific areas have been designed into the site, beginning with a public access area carrying information on dealer and business centre locations, price and range details, as well as tax calculators and news. Safety and environmental information and fleet finance options are also carried in this part of the site.
'Visitors who register on the site can gain access to further information. This includes free access to fleet software from Chevin Fleet Solutions, servicing costs and historical price guides. Prices can be downloaded in pdf or excel format. Other information including promotional help and flyers is also available. The third level can be accessed by Renault fleet customers, who can view their terms, orders and purchases online.
'Many fleet managers will already be used to accessing fleet information via the Internet and Renault Fleet provides another web-based resource. It can only be a matter of time before other manufacturers offer similar services, but Renault takes the credit for getting there first,' added Mr Kendall.