Renault unveils new Kangoo Van Compact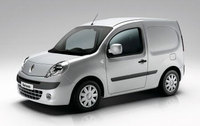 Renault is strengthening its number one status in the European LCV segment with the launch of its New Kangoo Van Compact, a new concept in the commercial vehicles sector, designed for urban driving.
Unveiled at the start of the European Road Transport Show in Amsterdam last week, this agile, compact and stylish compact van shares the key strengths of its larger New Kangoo Van sibling, as well as its distinctive personality. It uses space particularly efficiently, with a maximum load capacity of between 2.3 and 2.9m³ (depending on version) from an overall length of just 3.83m.
New Kangoo Van Compact is aimed at those whose jobs take them frequently into city centres, where parking and ease of manoeuvrability are critical, as well as those who just require a more compact van to meet their needs, regardless of location.
New Kangoo Van Compact sets unprecedented standards of comfort, with carefully thought-out ergonomics. Its dashboard is worthy of an MPV and the high-up driving position combines with the panoramic windscreen for a broad view of the road ahead. The cabin is exceptionally spacious for such a compact vehicle, with front elbow room of 1.51m.
New Kangoo Van Compact's 3.83m length is 38cm shorter than New Kangoo Van by reducing its wheelbase by an equivalent amount. The shortened wheelbase also reduces the turning circle, making it ideal for inner-city driving, as New Kangoo Van Compact needs just 9.4 metres between kerbs to complete a U-turn.
In spite of its diminuitive dimensions, New Kangoo Van Compact boasts a load capacity of between 2.3 and 2.9m³ (depending on version). It also features an interior width of 1.21m, enabling it to accommodate standard Euro pallets. When the New Kangoo Van Compact's passenger seat is folded to form a flat floor, the maximum load length increases from 1.34 to 2.12m. A version without passenger seat is also available (depending on country), which can take load lengths of up to 2.54m. In either configuration, maximum load capacity is 2.9 m³.
New Kangoo Van Compact has many clever storage spaces, such as the A4-document dashboard stowage, overhead parcel shelf and a large, lidded 15-litre glovebox (depending on version). New Kangoo Van Compact can also serve as a travelling office thanks to its many multimedia and navigation features.
Renault also offers a mobile navigation device holder, which is positioned near to the driver's seat for easy visibility. The Multi-functional TunePoint system is also available with the New Kangoo Van range. Located in the glovebox, this device enables occupants to listen to their own music collection, via three ports for connecting USB keys, MP3 players and iPods™. For safe driving and ease of use, the music can be controlled via the fingertip remote controls on the steering wheel. A hands-free Bluetooth function is also available.
New Kangoo Van Compact has a range of engines ideally suited to motoring in built-up areas. The 1.5 dCi diesel engine is available with an output of either 70hp or 85hp, while the 1.6 8V petrol unit delivers 90hp. All of the engines drive through a five-speed manual gearbox. The availability of maximum torque from low engine speeds and a lighter weight than the standard version combine to give the 1.5 dCi New Kangoo Van Compact brisk acceleration and genuine driving pleasure in and about town.
With CO2 emission levels of less than 140g/km, both diesel models are particularly economical and environmentally-friendly. The dCi 85hp returns combined cycle fuel consumption of just 55.4mpg (equivalent to 135 grams of CO2/km). Both 1.5 dCi versions of New Kangoo Van Compact comply with the criteria for Renault's eco² symbol.
Derived from the Scénic platform, which is acclaimed for its dynamic performance, comfort and safety, New Kangoo Van Compact boasts handling worthy of a family saloon. It is equipped with latest-generation ABS which combines with Emergency Brake Assist (EBA) and engine torque overrun regulation. Depending on version and market, New Kangoo Van Compact benefits from driver aids traditionally associated with saloon cars (e.g. cruise control, speed limiter, automatic headlamp activation and rear parking proximity sensors).
Its cabin is designed to ensure the highest levels of safety for all occupants. Both
seatbelts are equipped with pyrotechnic pretensioners which hold occupants firmly in their seats, plus load limiters which afford more effective protection for the thorax. New Kangoo Van comes with a driver's side airbag as standard, while some trim levels are equipped with both passenger and driver's side thorax airbags. To limit damage to the pelvis in head-on collisions, the front seats have anti-submarining humps (except with folding passenger seat).
Because all van users seek well-designed vehicles that can adapt to their needs, Renault offers a full range of complementary conversions and accessories. The cost of mechanical work and repairs has also been minimised to ensure that New Kangoo Van Compact remains an economical and reliable vehicle.
With New Kangoo Van and New Kangoo Van Compact, Renault is extending
its product range and strengthening its position as Europe's leading maker of light commercial vehicles.
Ever since it was first released, Kangoo has proved highly successful, with over 2.2 million units sold worldwide, around half of them in LCV versions. With attractive products backed by efficient services, Renault's LCV offering is very well matched to the needs of its business customers.
The New Kangoo models, made at the MCA plant in Maubeuge, France, set new standards for quality in this vehicle segment, further improving on the best-in-class quality achievements of the previous-generation Kangoo vans.
Since the first model was released in 1997, over 2.2 million Kangoos have been made across four continents: MCA Maubeuge (France), Casablanca (Morocco) Córdoba (Argentina) and Kuala Lumpur (Malaysia). Kangoo Van stands out as Europe's biggest-selling small van ever, with sales approaching 1.1 million units. Good sales results confirm the confidence that Kangoo inspires among business users, with their focus on quality, reliability, purchase price, running costs and service. Renault's unbroken ten-year leadership of the LCV market attests to its expertise in this highly competitive sector.
Through a worldwide network of over 700 Business Centres, Renault addresses business users with a versatile, responsive sales and aftersales organisation staffed by specialist teams capable of offering tailor-made solutions.
Renault's LCV Division is a specialised organisation employing 2,000 engineers and technicians.